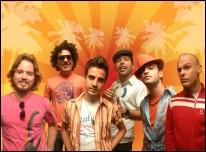 By Alejandro Salinas
Like your Latin music with a touch of disco and an extra punch of funk? Then check out Los Amigos Invisibles, playing at the 9:30 Club (815 V St., NW) this Saturday at 9 pm. Together since the early '90s, this Venezuelan dance band combines distinctive Latin beats with jazz, trance, and disco elements, creating a unique sound that defies categorization. To refer to them as eclectic would be to sell the band—and its show—short.
The group is touring parts of the country to promote its latest release, Super Pop Venezuela, which revisits some classic Venezuelan pop hits, giving them a slicker, sexy makeover. Opening for Los Amigos Invisibles is New York City-based Pacha Massive, an up-and-coming band with similar disco-pop inclinations whose album is climbing the Latin alternative-rock chart.
Tickets ($22) are available online. For more information, visit the band's Web site and MySpace page.
There's more going on this weekend, including theater, a designer trunk show, and an Italian festival. Check out details in Where & When Weekend.