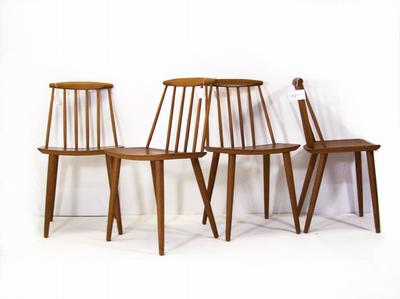 Furniture fads, like fashion, are cyclical. Vintage pieces from 1960s Danish designers such as Hans Wegner and Finn Juhl are back in style. But where to find them?
Try Modernicus, a 1,200-square-foot showroom in the Mount Vernon Antiques Center in Alexandria. Owner Robert Chapman stocks the store with a changing selection of American, Danish, and Scandinavian furnishings from the 1960s, '70s, and '80s. The company started as an online venture, and Chapman still does a good bit of Internet business through eBay and Craigslist.
On sale now are a set of four teak spindleback chairs from the 1970s by Danish designer Folke Palsson ($800); a 1960s light-blue ceramic lamp from American firm Marshall-Martz Studios ($735); and a 1950s secretary from Danish designer Børge Mogensen ($935).
Modernicus | 8101 Richmond Highway, Alexandria | 703-887-0895
More pictures below.