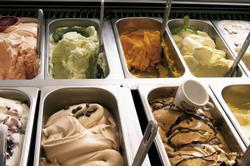 When the Roman emperor Nero craved an icy sweet, he would send runners to gather snow from the Apennine Mountains to mix with honey and nuts. We have it easier. Washington abounds in old-fashioned ice-cream parlors and frozen-custard stands and trendy new gelaterias with their creamy, not-quite-frozen Italian version of ice cream.
Here are our picks for the area's best summertime frozen treats.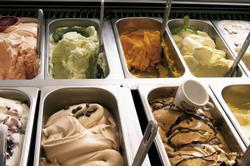 Rich, Creamy Gelato
At Georgetown's Dolcezza (1560 Wisconsin Ave., NW; 202-333-4646), the ultra-dense, liqueurlike Argentinean-style treat has fans standing in line. Flavors such as earthy pistachio and espresso are as seductive as the cool vibe.
On weekends in Annapolis, crowds converge on the bayside Aromi d'Italia (8 Dock St.; 410-263-1300) to sample gelato and eye one another's picks. Ours are the stracciatella (vanilla with chocolate shavings) and caramel. Both have the right consistency, texture, and gloss.
In Baltimore, Pitango (802 S. Broadway; 410-702-5828) scoops up intense pistachio and nocciola (hazelnut) flavors—it's almost as if you're eating a creamy essence of the nuts. The shop's yogurt gelato has the tartness of yogurt but the velvety mouth feel of ice cream. Gelatos here are made with fresh fruit and flavorings on an organic dairy farm in Pennsylvania. Pitango is expected to debut near DC's Dupont Circle this summer.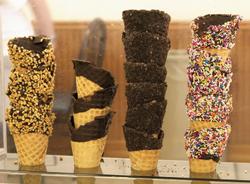 Fabulous Frozen Custard
Nostalgia is served up at the counter of the Dairy Godmother (2310 Mount Vernon Ave., Alexandria; 703-683-7767), a blue-walled cafe complete with white picket fence. This is creamy, eggy, Wisconsin-style frozen custard in purist's vanilla and chocolate. Baking here is top-notch, too, meaning that if the flavor of the day happens to be lemon-meringue pie—check the calendar at thedairygodmother.com—hunks of pie crust are smooshed into lemon custard for an over-the-top mix-in.
There's usually a gaggle of kids waiting in line, and once you have a lick of Milwaukee Frozen Custard (Chantilly, 703-263-1920; Herndon, 703-467-0900; Manassas, 703-393-9990; Woodbridge, 703-497-5511), you'll understand why. Made with Wisconsin cream, the silky custard comes in an array of flavors, but vanilla and Good Bye Marion Berry (vanilla with marionberries mixed in)—a witty dis of the former DC mayor—are stellar.
Blasts From the Past
The old-timey Dairy at the University of Maryland (B-079 Turner Hall, College Park; 301-405-1415) makes a wonderfully fresh, pure-tasting ice cream with milk from the school's herd of Holsteins.
Porch sitting and ice cream go hand in hand at the Ice Cream Factory & Cafe (13700 Old Brandywine Rd., Brandywine, Md.; 301-782-3444), a former general store and post office dating to 1867. Experimentation is encouraged, so custom-blended frozen-custard flavors are all over the map: everything from aromatic peach to Mounds bar to creamy lemon to banana.
Given the retro feel, it's no surprise that shakes are the thing at Durding's Store (5742 Main St., Rock Hall, Md.; 410-778-7957), a circa-1920s institution on the Eastern Shore sporting a tin ceiling, vintage soda fountain, and red stools. But these aren't your grandmother's shakes. They're more likely to be made with Milky Ways, brownies, and even slices of fruit pie blended with the ice cream and milk.
Special Cravings
Adventure seekers turn to Bob's Noodle 66 (305 N. Washington St., Rockville; 301-315-6668) for the likes of crispy duck tongue and loofah, but this Taiwanese restaurant also is a great place to beat the heat with a mound of shaved ice drizzled with red-bean, lychee, and taro syrups—enough for four.
Among the clever desserts at Black's Bar & Kitchen (7750 Woodmont Ave., Bethesda; 301-652-5525) is a very grown-up cherry "Manhattan float," made with cherry soda and house-made bourbon ice cream.
At Blue Duck Tavern (1201 24th St., NW; 202-419-6755), hand-cranked ice cream, in seasonal-fruit flavors, is served in an elegant frozen glass bucket in both dining room and lounge.
Mezze rule at Zaytinya (701 Ninth St., NW; 202-638-0800), but the dazzling Turkish-delight sundae—with walnut ice cream, yogurt mousse, honey gelée, orange-caramel sauce, and caramelized pine nuts—might be the best thing in the house.
The bittersweet-chocolate milkshake, made with Moorenko's ice cream and served with housemade cookies at the Majestic (911 King St., Alexandria; 703-837-9117), is retro and modern at the same time.
At Le Matin de Paris (7236 Little River Tpk., Annandale; 703-914-0088) and Napoleon Bakery (4217 Annandale Center Dr., Annandale; 703-914-1101), you can get a bowl of freshly shaved ice mounded with strawberry ice cream, slices of kiwi and strawberry, and a maraschino cherry ($6.50 at Le Matin de Paris, $4.99 at Napoleon Bakery). Called bingsoo, it's frozen bliss Korean-style.