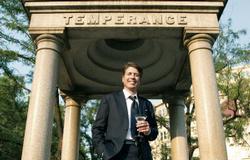 Longtime Washingtonian Eric Felten has done everything from editing the reincarnation of Regardie's magazine in the 1990s to hosting a foreign-policy show on Voice of America today. Now known for his "How's Your Drink?" column in the Wall Street Journal, Felten won a James Beard Award this year for the best wine-or-spirits writing. His first book, based on the columns, will be out in November.
Beyond drinks, he's also a very good trombone player—following in the footsteps of his grandfather, swing legend Lester Felten—and leader of the Eric Felten Jazz Orchestra.
Where's your favorite spot in Washington? Glen Echo Park. Jazz was originally dance music and still is at the Spanish Ballroom. Only slightly more miraculous than the restoration of the ballroom is the continued spinning of the 1920s Dentzel carousel, which my kids, Priscilla, Greta, and Thad, love to ride.
Favorite pastime? Dad stuff: soccer games; driving to ballet practice; tearing around the park trying to get a kite aloft. Have you ever noticed that gale-force winds stop the moment you finally untangle the twine and get a kite ready to go?
Favorite television show? Whatever is on Turner Classic Movies.
Favorite movie? Fred Astaire is at his best poking fun at himself in a showbiz sendup called The Band Wagon. It's worth seeing for the climactic Girl Hunt Ballet, but the high point of the film is Astaire's dance with the luscious Cyd Charisse in Central Park. That sequence is one of the most beautiful and romantic—and best-orchestrated—ever in a musical.
Favorite book? Lucky Jim by Kingsley Amis. Wickedly funny take on academic pretension. Also a cautionary tale on the dangers of mixing whiskey and public speaking.
What's on your bookshelf now? Land of Lincoln by Andrew Ferguson, who's one of the smartest and funniest writers around. Boomsday by Christopher Buckley, who gives Ferguson a run for his money. And Appointment in Samarra—I've been on a John O'Hara kick of late.
Favorite song? My favorite songs to sing are "Fly Me to the Moon" and "All the Way." Both let me indulge in belting out big finales.
Favorite band? When I was a kid I had the good fortune to hear the Count Basie Orchestra with Count Basie still at the helm. No band ever swung harder, and no band ever made a singer—whether Frank Sinatra, Joe Williams, or Tony Bennett—sound better.
Favorite restaurant? The late and lamented Joe & Mo's. Not only did Mo Sussman serve a great steak and offer a great selection of Scotch, but that's where my big band got its start, playing for dancing every Saturday night.
Favorite everyday restaurant? Austin Grill. I grew up in Arizona, and there is very little Mexican food in Phoenix as good as Austin Grill's.
Favorite food? Steak Pittsburgh. Get the coals nice and hot, and put a stick of butter on the grill. When the melting butter bursts into flame, toss your steak into the conflagration. It will be rare inside and charred with butter smoke on the outside. Yum.
Favorite drink? A martini the way William Powell would have made it in the Thin Man movies: four or five parts gin to one part dry vermouth and a dash of orange bitters. I like the drink to be well shaken and garnished with an olive. I have a horror of bartenders who ask "Vodka or gin?" I'm not sure which is worse, the delusion that a martini is anything other than a drink of gin and vermouth or the fanciful notion that there is an appreciable difference among competing brands of vodka.
Favorite summer cocktail? Bermuda's national drink, the Dark and Stormy: Gosling's Black Seal rum and Barritt's ginger beer on the rocks.
Historical figure you'd most like to meet? I'd like to jam with Louis Armstrong. "Pops" all but invented jazz improvisation and defined jazz singing.
Favorite object you own? A trombone handmade for me in Germany by a craftsman named Manfred Schmelzer.
Thing that others would find surprising about you? In the 1930s, my great-aunt Ruth Felten played trombone with Ina Ray Hutton's all-girl orchestra, the band that inspired the movie Some Like It Hot.
Your proudest accomplishment? My PBS concert special, The Big Band Sound of WWII.
What makes Washington special? You never know whom you're going to meet. Last year I was at Key Elementary School and was introduced to Valerie Plame. Not long after that, my band played for Bob Novak's birthday party. Whatever you do, don't tell Patrick Fitzgerald!