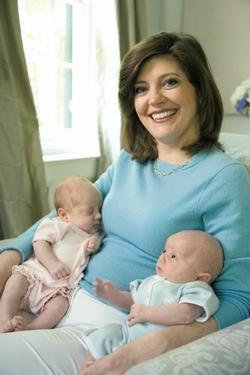 How did you choose the names Henry and Grace?
It's harder than you think to pick names. You think about family names, and we went through a lot of baby-name books. I had always liked the name Grace.
First we had the top ten, then the top five, and about two weeks before the babies were due my husband said, "You know, we probably should settle on the names."
We liked Henry because we thought we could call him Hank, and we thought Hank Tracy was a very nice name. We're calling him Henry now, but when he gets a little older he'll be Hank.
Where did you find good maternity clothes?
The best place to get maternity clothes is from your friends. So the first thing I would say is borrow them.
The second thing is to invest in a good pair of maternity jeans. I bought jeans in New York at a store called Veronique, but they also sell them at A Pea in the Pod in Tysons Galleria.
I wore my maternity jeans from beginning to end. They try to sell you the pair that fits when you are three months pregnant. Buy the pair that will fit when you are six months.
Target has really good T-shirts and camisoles. And there are online places with great maternity clothes like Liz Lange and IsabellaOliver.com, a British company.
Any advice in general for buying maternity wear?
Don't feel like you have to wear maternity clothes. I bought a couple of Diane von Furstenberg wrap dresses at Saks. I just got them a couple sizes bigger than I wear normally, and they looked great.
Where have you found good baby clothing?
There are two stores in Georgetown I regularly visit. Piccolo Piggies has darling clothes, and there's a new store on M Street called Dawn Price Baby. I've also found that Lord & Taylor has great baby clothes.
How about cribs and other furniture?
I found the best crib gear and furniture for the nursery at BuyBuy Baby in Rockville. The one thing nobody tells you is that it takes 8 to 12 weeks to get a crib and dresser, so you have to order in advance.
BuyBuy Baby charges at least $50 to deliver and set up the crib. Spend the $50 because you are going to be pregnant, and your husband is going to be, you know, maybe not in the mood to spend hours putting a crib together.
And toys?
Tree Top Toys right near my husband's restaurant, Chef Geoff's on DC's New Mexico Avenue, has lots of good toys.
What were some of the favorite shower gifts you received?
A fun shower gift was baby booties from Hermès, which were very luxurious. Someone also put together a big basket with newborn diapers, Tylenol, special ointments, and all the essentials that you need but don't register for. I thought that was extremely thoughtful.
Did your husband cook you a lot of meals while you were pregnant?
He made me breakfast every day and brought it to me in bed. He regularly made me fruit shakes with yogurt and blueberries and bananas.
Every Sunday he would make blueberry pancakes and bacon. Unfortunately the daily breakfasts in bed have ended, but I still get the pancakes. I think that tradition will continue. I'm sure the kids will get pancakes, too.
But now I'm bringing him coffee in bed every morning.
Sleek and Pretty
Dina Katsev Igoe and Elleni Vorvis—best friends since high school—opened Apple Seed, an airy Old Town mom-and-baby boutique, in June 2006 after noticing a lack of stylish maternity wear in Washington outside of Target's Liz Lange racks and the mall triumvirate Motherhood/Mimi/A Pea in the Pod. They stock chic, girly clothes from lines like Lait and Duet plus accessories like the now-ubiquitous Bella Band and Storksak diaper bags; kids' clothes from Patachou and Splendid; and gifts like photo frames and jewelry made by local artisans.
Apple Seed, 115 S. Columbus St., Alexandria, 703-535-5446; 414 Main St., Gaithersburg, 240-683-5446; appleseedboutique.com.
Pregnant and Polished
In a strip mall on Rockville Pike, 9 Maternity is a surprising outpost of maternal style. Kelly Richardson Lawson, a former Black Entertainment Television exec and the mother of two young sons, fills her store with flattering, body-hugging pieces from Japanese Weekend, Duet, Noppies, and Ripe. Office-appropriate wrap dresses and jackets hang beside cozy Michael Stars T-shirts and Olian denim capris.
9 Maternity, 12246 Rockville Pike, Rockville; 301-468-2022; 9maternity.com.
Priced Right
In an informal survey of stylish new moms, we kept hearing about one store: Wiggle Room.
Bridget Gray opened this Bethesda consignment shop in December 2005, tapping into a huge market for midrange to high-end maternity wear. Though inventory varies depending on what consigners bring in, Gray says she carries everything from Gap basics to designer lines like Diane Von Furstenberg and Cadeau.
"We're great for black tie," she says. Wiggle Room takes the price for a mint-condition, worn-once formal garment down a notch or two. The shop, which also sells children's clothes and gear, has done so well that Gray is expanding, opening up a back room to more consignments and some new items, like T-shirts, that don't necessarily last more than one pregnancy.
Wiggle Room, 4914 Del Ray Ave., Bethesda; 301-656-5995; wiggleroom.biz.