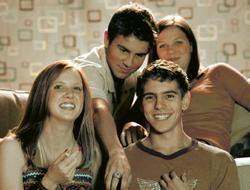 Club High School
As of last month, the Luck Fangley group had 231 members. The group is a lightly disguised collection of Facebook members who aren't fond of Langley High School in McLean.
"For all of you who hate all the little s**** over at Langley, join up this group," the description reads. "Invite your friends, discuss why you hate Langley, and all they represent."
Luck Fangley doctors its name because teens know that forming derogatory Facebook groups can get you in trouble. A McLean High student remembers an "all-out war" sparked last year when a few girls created what she calls Sluts of McLean, complete with photos of classmates who should belong in the group. The girls who had been targeted fired back, the student says, with an Ugly Chicks group.
Teen rivalries and cliques are nothing new. But Facebook groups are so easy to create—think up a name and ask friends to join—that they proliferate at breakneck speed. Some are harmless, and others demonstrate the power of Facebook to unite kids for good. When there's a tragedy such as the Virginia Tech shooting, kids create online groups to show support. Graduates also use the site to stay in touch with friends after graduation.
But teenagers are teenagers. Often they form groups that broadcast across the Internet things that once were only whispered in the hallways. Students at a Montgomery County school started a group of mostly girls who liked a handsome young teacher. One member posted names for the babies she hoped to have with him.
Some clubs amount to high-tech bullying. Last year some kids at Churchill founded Melissa Is a Bitch. Melissa, who thinks the founder was a girl whose boyfriend liked her, learned of it via Facebook.
So many users create groups to attack others, says Melissa: "It's so hurtful." She says there's even a group called Settle Your Problems Face-to-Face—Don't Create a Facebook Group. Facebook shut down the anti-Melissa group at her request.
"This is a climate where kids are more willing to push the envelope," says Elinor Scully of National Cathedral School. "Electronically, you don't have to deal with the repercussions immediately."
During last spring's campaign to elect the Montgomery County school board's student member, teens from Blair High in Silver Spring created negative Facebook groups about candidate and classmate Will Bucher, who later lost the election. According to a Blair student, the groups were shut down and a new one popped up called Will Bucher I Dare You to Shut This Group Down.