During a short break between the lunch and dinner chaos of DC Restaurant Week, chef Jamie Stachowski of K Street's Restaurant Kolumbia took a few minutes to talk about his favorite eats. The Buffalo native grew up on pierogies and is a kielbasa fanatic. Sure enough, Kolumbia's menu reflects his Polish roots.
Stachowski started cooking at age 15 and came to Washington in 1984 to work with the legendary chef Jean-Louis Palladin. Over the next two decades, he worked in several local kitchens, leaving for a few years in between to launch a restaurant in Lebanon. In 2004, he opened Restaurant Kolumbia with his wife, Carolyn, who manages the front of the house and is a certified sommelier. It's truly a family operation—the Stachowskis' two college-age kids work there in the summer.
Chef Stachowski shares his favorite cheap eat (kielbasa), pizza topping (kielbasa), the sandwich he can't live without (not kielbasa!), and more.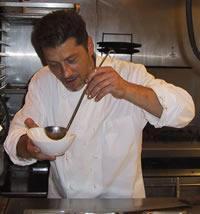 Favorite dish on your menu right now:
A lobster salad we do with avocado and papaya, mango mignonette, shallots, chives, and wasabi tobiko. It's served in a sesame tuille in the shape of a sphere. Lobster is one of my favorite foods to work with. It takes a lot of finesse to coax out the rich, sweet flavor from the shells. And you can't be gentle enough when you're cooking the meat.
Favorite item on your butcher board:
It's gotta be the number-one wiener for a Pollack like me—the quintessential kielbasa.
Favorite local restaurant besides your own:
We go to a place in Tysons that we like, Bistro 123. The cooking's good—it doesn't get the fanfare of all these new bistros. The chef works with foie gras and high-quality products, but nothing so exotic. It's wonderful cooking—straightforward, no foams and jellies. It's right on.
Favorite cheap eat:
Kielbasa—at my house. I don't go out for kielbasa because I don't know anyplace that makes it. I also like Thai food—that's pretty cheap at any of those places over in Seven Corners.
Favorite dish to cook at home:
I like to cook fish at home because it's quick. You can do it simple and it's great—you get a lot of bang for your effort. I also like some classic Sunday-night dishes like spaghetti and steak. My kids grew up in this life, so they eat everything. A lot of times we grill—just throw a bunch of stuff on there. It's a hodgepodge—a couple lamb chops, handfuls of jumbo shrimp, chicken, some sausage, a couple squid. It's all on the grill and then on a big platter. There's something for everyone.
Favorite kitchen tool:
My hands. That's it. You can buy all the gadgets you want, and they all somehow grow legs and they're never there when you need them.
Favorite soup:
Chanina. It's a Polish duck-blood soup.
Dessert or cheese plate?
That's a tough one. If I were on a desert island, I'd have to go with dessert. It's really hard to pass on cheese, though!
Favorite pizza toppings:
Some more kielbasa, sliced real thin, and fresh mozzarella. And throw some anchovies on there.
Favorite sandwich:
I drove to New York one time because I was so angry that I couldn't get a chopped-chicken-liver sandwich down here. I got it at Artie's at 80th and Broadway.
Favorite junk food:
Oreos! Right now I'm making an Oreo-type cookie with two savory pâte brisée cookies and a big slice of foie gras torchon, rolled in crispy chopped onions. It's inspired by Oreo cookies—I crave them with milk at 3 AM.
Favorite food from childhood:
Pierogies. I loved "lazy pierogies"—that's just noodles and cheese. There are levels of lazy pierogies—there's rolling out the dough and just throwing the cheese on it and rolling that up. Then you chop it up into strips and toss that with butter. The real-lazy level is just to cook regular noodles and toss them with farmer's cheese and butter. Even lazier: If you don't have farmer's cheese, you use cottage cheese. That is the s—. My sister would make that for us. Everyone's mom got too busy and made that.

All-time favorite meal:
It has to be one of Jean-Louis Palladin's. One of the best meals I had with him was up in New York—he had a short-lived restaurant in some hotel up there. The terrines and soup and fish—he was a very innovative guy. Another one of the more memorable meals I ever had was when I was younger—I had to be 17 or 18. It was in a tiny cafe bistro in Martha's Vineyard, and I had this steak Diane. It was just perfect.