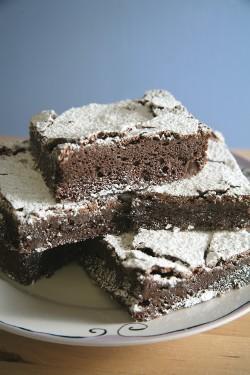 It's no surprise that the upbeat, periwinkle-blue storefront of Sweet Dreams Pastry Shop provides desserts to many of Annapolis's fancier restaurants. It's owned by former Kinkead's pastry chef Chris Kujala, who opened the shop two years ago with his wife, Elizabeth.
Sure, you can find the carrot-cake roulade that was a mainstay at Kinkead's, but Kujala turns out simpler goodies, too. There are chocolate-chip-pecan cookies with the right mix of salt and sugar, mildly spiced doughnut holes, and decadently fudgy devil's-food brownies. More elegant are his macaroons, especially a French version that sandwiches soft chocolate ganache. It tastes like a black-and-white cookie fused with a fancy petit four.

Sweet Dreams Pastry Shop, 1410 Forest Dr., Annapolis; 410-268-5060.