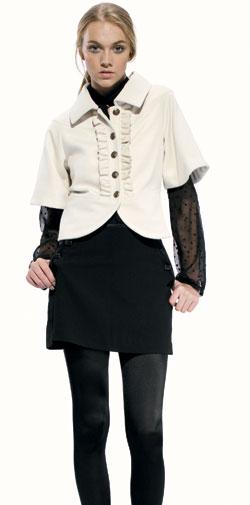 Morgan Hungerford, who grew up in Alexandria and now lives in DC's Adams Morgan, is a designer and fashion blogger (pandahead.blogspot.com). Her three-year-old line, Muss, features lots of reconstructed vintage dresses.
Although she makes her own line of clothing, Hungerford is always on the lookout for bargains. Here are her favorite spots for deals:
Target. Hungerford loves the GO.International collections—cheap chic made for Target by high-end designers. "My favorites have been the Luella Bartley, Paul & Joe, and Proenza Schouler collections, and I cannot wait for the Alice Temperley line this fall."
Forever21. "I go back again and again for accessories. They're also dependable for cute tops—I got a great one this summer that's a shortened replica of Catherine Holstein's sailor dress from last year. As a designer, I feel a bit conflicted about pieces that are replicas of big-label items; as a consumer I think it's the best thing since sliced bread."
H&M. "I like that the design teams aren't just knocking off designer fashion—they're reinterpreting trends. I head to H&M when I need a dress or a top because I know they'll have something fashion-forward. I'm excited that they're starting to carry more shoes."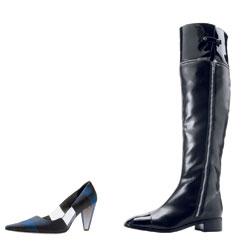 Payless ShoeSource. Laura Poretzky—known for $400 shift dresses—has designed a line of shoes here. "The shoes are amazing," says Hungerford. The Abaete by Laura Poretzky collection includes wedges, pumps, and boots from $25 to $70.
Village Thrift, 9644 Fort Meade Rd., Laurel; 301-776-1885. "Thrifting takes patience," Hungerford says, explaining that thrifts are often warehouse size, so there's lots to sift through. "I've had great luck here with shoes and dresses."
The Remix, 1906 Mount Vernon Ave., Alexandria, 703-549-4110; 645 Pennsylvania Ave., SE, 202-547-0211. "I've never been disappointed when I've needed a dress for an event—they once saved my life the day of a wedding. It can be hard to find inexpensive vintage that's good, and the Remix has both."
Dollar Star, 3129 Mount Pleasant St., NW; 202-462-7900. "This is one of those packed-to-the-gills stores that have everything. I go for dirt-cheap headbands, tights, and tote bags."
Beauty Island, 1753 Columbia Rd., NW; 202-265-2265. "There's a $2-earring wall and nail polish in every color imaginable. You can finish an outfit here in under $5."
Want more deals? Check out our piece on exclusive September discounts for Washingtonian readers.