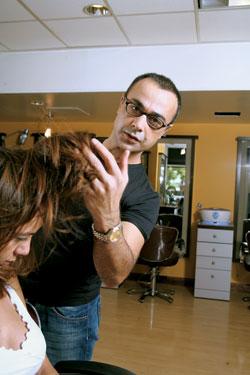 As summer draws to a close, pools shut down for the season and many Washingtonians return from Rehoboth, Nantucket, and the Outer Banks with hair that's seen a little too much sun, salt, and chlorine.
We asked local stylists for tips on repairing summer damage. Recommended products can be purchased at salons or online at Amazon.com.
Ismail Demir, a stylist/colorist at Tara Salon in Georgetown, suggests an easy fix: a haircut. He recommends trimming one to three inches to make hair healthier: "As long as the ends are clean, your hair can breathe. And it'll grow faster."
Owner John Moukalled of Salon Red in Lorton agrees: "It's important to cut the hair after sun damage and continue with a trim every four to five weeks."
Many salons offer deep-conditioning treatments to restore hair, based on a hair and scalp analysis. "One-size treatments do not fit all," says Reg Laws of PR at Partners.
For a do-it-yourself deep-conditioning, Demir suggests a hair mask like Phyto's After Sun Repair Mask ($22). After shampooing and towel-drying, apply it from the roots to the ends. Demir tells clients to put on a shower cap and blow dry for a couple of minutes: "With a little heat, products work faster." Leave the mask in for 15 to 20 minutes, then rinse. "It adds moisture and protects hair from more damage."
Joey Noufal of Noufal Hair Studio in Vienna recommends a clarifying shampoo for chlorine-damaged hair. He likes Head Remedy Clarify Shampoo by KMS California ($14.95). Clarifying shampoos strip hair, so Noufal says to limit use to once or twice a week; "it takes out all the buildup that's coating your hair."