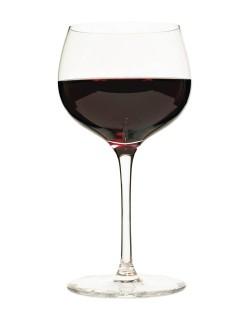 When you leave a salon after a great haircut, you can feel on top of the world. But salons want you to feel that way from the moment you walk in—so some offer a glass of Pinot Grigio with your haircut or a back massage with your shampoo.
At the Hair Lounge in Georgetown, clients are treated to a glass of wine with their cut. "I think the client deserves much more than water," says owner Serkan Sut. Customers can choose among Pinot Grigio, Chardonnay, and Merlot. The salon goes through white wine faster, but Sut says he notices a subtle divide: Women getting haircuts opt for white; coloring clients choose red.
Does a glass of wine lead to a longer appointment? It can, Sut says. While a women's haircut at some salons can take a half hour to 45 minutes, cuts at the Hair Lounge can last 45 minutes to an hour. And the salon gets busier after 4 pm. "People come, get a glass of wine and a cut, and relax after work," Sut says.
At Sugar House Day Spa & Salon in Old Town Alexandria, clients can choose red or white wine or a beer, which owner Mary Steidl says is more popular with men. When the spa hosts free classes on topics like blow-drying or makeup application, it offers such drinks as piña coladas, sangría, and margaritas.
Steidl says clients are offered alcohol only if they request it. There's a one-drink limit, and the cocktails served at special events have only a trace amount of alcohol.
The laws on serving alcohol at salons vary among jurisdictions. Virginia has a specific liquor license for day spas. In Maryland, where a license is also required to serve alcohol, some counties—such as Anne Arundel—allow salons to apply for liquor licenses, while others—such as Montgomery—do not license salons. A spokesman for the District says salons can serve drinks without a license provided they give away the alcohol, not sell it.
While more men are frequenting salons, they still find some spa services discomfiting. The Grooming Lounge in downtown DC puts its male clients "back in their element," says co-owner Mike Gilman, with big-screen TVs tuned to ESPN, a shoeshine stand—and beer and martinis.
Drinking a beer while getting a haircut gives men that "old-fashioned, big-shot feeling," Gilman says. It also makes some services, like a pedicure, easier for men to swallow: "They think, 'Having my feet done is not that bad because I'm having a brew.' " One service, the Rock 'n' Roll back wax, comes with a shot of Jack Daniels.
Like Sugar House, the Grooming Lounge sticks to a one-drink limit and asks for ID if someone looks young. "To be honest, some guys don't even finish the drink," Gilman says. "It's just the concept of having a beer while getting your hair cut."
At DC's Roche Salon, clients are treated to simulated shiatsu massage while getting a shampoo. Massage chairs at the shampoo stations have not only footrests but an electronic control with five patterns of shiatsu.
"Clients love it," says co-owner Dennis Roche. "They fall asleep in the chair a lot." Do relaxed clients buy more services? Probably not, Roche says. "But it certainly brings them back."