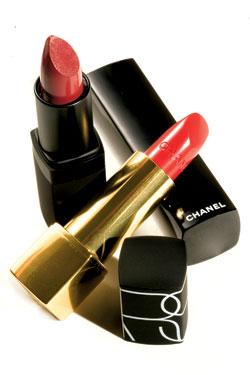 Fall 2007 looks like fall 1947. and like fall 1997, when Kim Basinger starred in L.A. Confidential. Veronica Lake waves. Satin dresses. Red lips. Very red lips.
From Gucci to Valentino to Wang, scarlet lips rule the runways.
Will Washington women wear this color? Some already do.
"I don't know anybody who's as passionate about red lipstick as I am," says Diane L. Johnson. "When I walk into a meeting wearing it, I own the room. I love that feeling."
The 51-year-old Bethesda consultant owns 50 tubes of different red lipstick—L'Oréal's a favorite—and has worn nothing but since she graduated college. Although her grandmother and mother called red-lipped women "hussies," Johnson was seduced as a girl by screen goddesses Joan Crawford, Bette Davis, and Barbara Stanwyck and their "glamorous, defiant" lips.
"It's actually a conservative look that's not edgy and never goes out of style," says InStyle beauty director Amy Synnott-D'Annibale.
Susan Tomai's red epiphany came 20 years ago, when she worked in New York City. "A young, outrageous woman colleague took me to Boyd's beauty emporium and told the woman behind the counter, 'We need to do something with her lips. She doesn't know what color to wear,' " recalls Tomai, 50, who owns Oratorio, a DC media training company. "I bought this neon-red lipstick and truly, when I walked down the street, heads turned. People were, like, 'You look radiant, what did you do?' That's when I knew: Red lipstick is who I am."
Tomai has a different red for every mood and activity. There's the "car" red she wears for running errands (Revlon's Love That Red); her "kitchen" red (Revlon's Poppy Silk Red); the "bathroom" red she uses first thing in the morning (Revlon's Fire & Ice); and the "pick up the kids" red (Maybelline's Cherry Rain). For life's major moments, Tomai relies on La Prairie's Garnet and Grenadine shades. She wore the latter to have surgery at Sibley Hospital. "I told my husband it was the first thing I wanted when I woke up. That way I'd look good and recover faster!"
Makeup maven Bobbi Brown says there are only two places to skip the red—at the gym and the beach. "Red lipstick definitely isn't for everyone," she says in an e-mail. "It's a strong look. The most modern way to wear red lipstick is with fresh, clean skin and a neutral eye—try skin-tone shades of eye shadow and classic black mascara."
The key, experts say, is to know your red. Generally, warm strawberry blondes (like Scarlett Johansson), auburn-haired gals (Jennifer Aniston), and natural redheads (Nicole Kidman) look best in tomato- and coral-red tones; icy blondes (Gwen Stefani), most brunettes (Angelina Jolie), and women of color (Jennifer Hudson) pop in blue-reds.
No matter the shade, red can make a statement in a town obsessed with power.
Erin DeLullo, a 26-year-old Alexandria political fundraiser, is known for her big sunglasses and red lips—her current obsession is Trish McEvoy's Sparkling Rouge. "I have big lips, and the pale, glossy thing does nothing for me," she says. "I've always loved red lipstick. It's very classic. It shows confidence and power."
InStyle's Synnott-D'Annibale agrees: "A woman politician or a politician's wife in red lipstick seems fitting. It's the analogue to the red power tie."
Getting Red Right
It's not always an easy color to wear. Here are expert tips for perfect lips.
Fairfax makeup artist Carola Myers is an unabashed fan of the "timeless" red lip. Growing up in Bolivia, where Miss Bolivias in training follow beauty religiously, Myers could never leave the house with a ponytail and bare lips. "That's unacceptable," she says. "Polished hair and makeup feel natural because they're so feminine."
Myers admits that even makeup artists are afraid of red. Not her. Myers has been known to customize reds for clients by melting assorted pieces in Dixie cups in her microwave.
If you're going to wear red, Myers recommends keeping the rest of the face fresh and clean, using a hint of powder blush like Bobbi Brown's Shimmer Brick Compact in Rose or Nars's Oasis. And she says that red lips require a little more time to define perfectly. Here's how she does it:
• Because red calls for smooth, conditioned lips, start by rubbing a little exfoliator across your lips, then rinse and dry. Apply a clear nourishing balm like Kiehl's Lip Balm #1.
• Apply a soft lip liner like Chanel's Red, filling in the entire lip. This gives lipstick something to hold on to, keeps it from bleeding, and prevents a rimmed look as your lipstick wears off. (If you want to stop there, you can—just apply sheer lip gloss. Myers loves Chanel's Glossimers in Spark, Sirop, and gold-flecked Twinkle.)
• Use a lip brush to apply a creamy lipstick; use a light touch—you can always add more if you need it. For fall, Myers loves Chanel's Passion ("a true red") and Lover ("bluer"). For the red-nervous, she suggests Nars's deeply rosy Transeurope Express: "It's a good color that everybody can wear."
• Pat your lips with a disposable sponge dipped in a bit of colorless, translucent loose powder—Myers likes MAC and Laura Mercier—and reapply your lipstick.
• Dab your bottom lip with gloss. You're ready for your close-up.