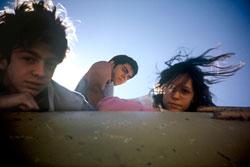 Washington area cinephiles craving more movies after this past weekend's DC Shorts Film Festival can turn their attention to the Latin American Film Festival, which starts tonight with a special screening of the Brazilian film The Greatest Love of All at the IDB Cultural Center (1300 New York Avenue, NW) followed by a kickoff party at Ceviche (921-J Ellsworth Dr., Silver Spring) (both events are not open to the public).
Screenings open to the public begin Wednesday evening at the AFI Silver Theatre (8633 Colesville Road, Silver Spring) with Spain's DarkBlueAlmostBlack and Peru's Black Butterfly showing at 7 and 9:10 PM respectively. This year's program, which runs through October 17, includes 34 feature films and two documentary shorts.
Showcasing the work of filmmakers from 18 countries, the festival is a unique opportunity for audiences to catch glimpses of cinema outside the Hollywood system. "The idea is to bring films that might otherwise not be available for viewing to a cultured audience and to show these films as they were meant to be shown—on the big screen," says Connie Poole, media manager for the AFI SIlver Theatre. Some of the films at the festival don't have a US distributor and won't be shown again.Festival highlights include Glue, a provocative coming-of-age story set in Patagonia from Argentinian director Alexis Dos Santos; AFI alumn Gerardo Naranjo's ensemble drama, appropriately entitled Drama/Mex; and Brazil's Fish Dreams, which won the Youth Award at last year's Cannes Film Festival. The Bolivian comedy Who Killed the White Llama will also be screened, and its director, Rodrigo Bellot, is scheduled to be on hand to discuss the film.
Tickets are $9.75 for adults and $8.50 for senior citizens and students, and are available online at afi.com/silver or at the Silver Theatre's box office during regular hours. Weekday screenings before 6 PM. are $7.50. For a complete schedule of showtimes go to afi.com/silver.