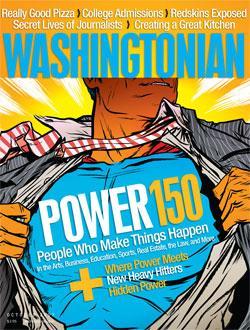 In "Pizza Wars," food and wine editor Todd Kliman looks at 14 boutique pizzerias all over the Washington area. While some Web discussions have mentioned this pizza trend, Kliman spent months dissecting Washington's new, blossoming pie culture. The competition has become so intense that DC's Comet Ping Pong built a wood-burning oven on-site, with layers of insulated concrete and Italian volcanic ash.
In the companion article "Anatomy of a Pizza," Mia's Pizzas chef/owner Melissa Ballinger reveals her crust-making secrets. (Pssst­—she drizzles olive oil over her pies.)
In "A Vine Grows in the East," wine columnist Dave McIntyre claims that East Coast varietals are moving up in the ranks—and among the world's elite.
In "Strip Mall Surprise," Kliman looks past the Mattress Discounters next door and sees Cynthia's restaurant for what it is: a flat-out gem. Though self-proclaimed foodies haven't heard of this Severna Park newcomer, they'll swoon over creative, ambitious dishes (such as seared foie gras atop a caramelized peach). Also, writer Cynthia Hacinli visits the second incarnation of Rock Creek in Mazza Gallerie, where every one of the haute-healthy entrées comes in at under 500 calories.
Our new feature, "Dining on a Shoestring"—the last of the three Dining Out reviews—finds good eats on the cheap. This month's it's the stylish wi-fi cafe Buzz; Ann Limpert weighs in on its dressed-up cupcakes (five varieties a day) and more.
Notice all the $7 French-fry servings at high-end restaurants? Our fingers got greasy for "Fry, Fry Again," a rundown of fries at Central, Blue Duck Tavern, Brasserie Beck, Café du Parc, Palena Cafe, and Poste. Plus, in a Web-exclusive feature, Brasserie Beck chef and owner Robert Wiedmaier shows us his two-day French-frying process.