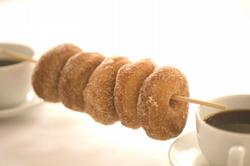 Better known for his envelope-pushing Australian dinner fare—think kangaroo tenderloin and Moreton Bay Bugs—Andrew Evans, chef/owner of the Inn at Easton on the Eastern shore does a bang-up job with breakfast too. We've already shown you how to make his Australian-style sausage rolls and dessert-like lemon crunch muffins. Now, we've got the recipe for another morning treat: cinnamon-sugar dusted doughnuts. The hot-from-the-fryer rounds are the most time consuming of Evans's breakfast recipes, but they're worth it.
The Inn at Easton's Cinnamon-Sugar Doughnuts
Makes 24 doughnuts

2 1/2 teaspoon yeast
1 cup water at 120 degrees (use a candy thermometer)
4 1/2 cups flour
10 tablespoon butter, softened
2/3 cups sugar
3 eggs
2 1/2 teaspoons vanilla
Zest of 1 lemon
1 teaspoon salt
Canola or vegetable oil (or a combination of the two) as needed for frying
3 cups sugar combined with 1/2 cup cinnamon (for coating donuts)
In a large bowl, sprinkle the yeast on the water and let stand for 5 minutes, or until bubbles form. Combine the yeast mixture with 1 cup flour, stirring until mixture is smooth. Cover with plastic and let sit in a warm place for 30 to 60 minutes, until mixture has risen.
Meanwhile, using the paddle attachment or dough hook of an electric mixer, cream the butter and sugar until light and fluffy. Beat in eggs 1 at a time and beat for 1 minute after each addition. Add vanilla, zest, and salt to butter mixture. When yeast and flour mixture has risen, add to the butter mixture in the mixer and slowly add the remaining 3 1/2 cups flour. Combine until dough forms a ball on the paddle or dough hook (the dough should pull cleanly from side of the bowl). Place dough in a stainless steel bowl for 1 1/2 to 2 hours and allow to double in size.
Punch down dough and place in refrigerator overnight or for at least 3 hours. Turn chilled dough out onto well-floured board. Roll to 1/2 inch thickness and cut out donuts with 2-inch round cutters. Use a 1-inch cutter to cut out center. Let cut doughnuts rest on a floured board for 30 minutes or until soft and puffy.
Fry until golden brown in a cast iron skillet, electric frying pan, or portable deep fryer in 2 inches of oil heated to 350 degrees. Turn the doughnuts only once (it will take a much shorter time for the second side to turn golden brown).
Drain on paper towels, then dip both sides in cinnamon-sugar mixture. Serve right away.