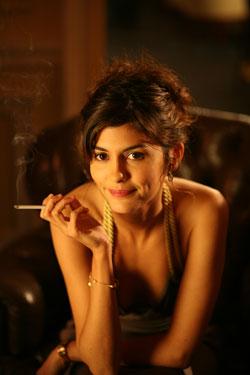 The French film festival C'est Chic kicked off Sunday night with the screening of Astérix and the Vikings, based on the popular comic-book series. Currently in its second year, the festival runs through November 1 with a series of feature films and documentaries—19 total—highlighting the many sides of contemporary French experience.

Lagerfeld Confidential, Rodolphe Marconi's documentary on noted fashion designer and Victoria Beckham best pal Karl Lagerfeld, should give Francophiles and fashionistas alike much to look at and talk about. Those more interested in music can check out Made in Jamaica, a documentary that explores the roots of reggae, charting the musical movement's rise from Jamaica's ghettos to the international charts.

Other films include the musical Love Songs, starring art-house darlings and hotties Louis Garel (of Bernardo Bertolucci's The Dreamers) and Ludivine Sagnier (of Francois Ozone's Swimming Pool); the suspenseful and slightly off-kilter thriller Roman de Gare; and the Beirut-based dramedy Caramel, directed by Nadine Labaki, who also has a part in the film.

Speaking of Francophone hotties, Audrey Tautou's latest film, Hors de Prix (Priceless), in which the actress—most famous for Amélie—plays a wacky gold digger, will close the festival.

Directors and special guests will be in attendance for some of the screenings.

Films will be shown at multiple locations, including the Avalon Theatre, the National Gallery of Art, AMC Loews Georgetown, and Landmark's E Street Theater. For location and ticket information, including festival passes, visit the Avalon's Web site.