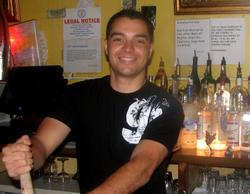 By Ruth Samuelson
Cafe Citron may claim to exude "Latin joie de vivre." But that description pigeonholes this funky Dupont Circle bar. Really, the place is international: The house special is a Cuban mojito, but the menu offers European beers and an array of Caribbean-inspired food. In July, a chic upstairs lounge that can be rented for private parties will debut with pricier drinks and a sleeker look.
But there are no plans to change Citron's unpretentious vibe. Come as you are. Relax. In fact, staff members say, you can table-dance or jump up on the bar if you feel like it. But first you'll probably need a few drinks, which is where bartender Alberto Lucini comes in.
Lucini has lived in Washington for several years, and though he's an experienced bartender, he just started working at Cafe Citron. This summer, expect to see him mixing cocktails many weeknights. When he's not concocting new shots, he's studying for a master's in international affairs at George Washington University. This week, he talked to us about working at this hotspot and new trends in bartending.
How long have you worked here?
This is my third week—I am a newbie. But I've bartended since I was 20. I'm 26, so on and off for five to six years. I started in Germany. My dad was in the army. It's a lot less prestigious over there than it is here, with the flipping and Tom Cruise in Cocktail. But I've always been at swanky places. To be honest, I've liked the swanky places, but I've always wanted to work at a sports bar where I can have chicken wings, beer, and football.
But the tips are better here?
No, the tips are good there, but once you get in somewhere, you get to know people who work at similar kinds of places. So it's easy to get a job. I've worked at Chi-Cha Lounge, Maté in Georgetown, Gazuza in Dupont, Guarapo in Arlington, the Reef in Adams Morgan—a good number of places.

So why here now?
Like I said, I know people. I know the manager. When I was in school, I quit both of my jobs—my day job and bartending. So now that I'm done with my first year, I can come back. When the semester begins, I'll probably cut down.
What do you like about Citron in comparison to other places you've worked?
The happy hour is great: They've got good appetizers, great deals, mojitos pitchers for $25. Also, we get a good crowd on Monday. You go to any other bar in DC on Monday night and there's going to be one or two alcoholics in there—and that's it. Here, we have free entertainment, flamenco.
Your boss told me you have a special bartender name, BT Mango Mojito?
[He turns to a coworker.] Are we serious about this? Well, you can write about this, but make sure you know it started out as a joke. You know, I get jealous of DJs. They get to name themselves such cool things. I want a DJ name, but I'm not a DJ. So I figured why can't bartenders have bartender names? You know, the DJs get all the hype. Like you never see the advertisements for "Come see Bartender Mango Mojito at Cafe Citron on Thursday."

Well, do you do tricks? I mean, what can you do?
Yeah, I'm the wrong one to ask about the tricks. Other people do.
So there's no new trend of bartenders naming themselves.
Well, no, there is! That's what we're doing here. Most things start out as a joke. But no, I'm serious: Bartenders need to have names. We already have personas. People come here because they like the staff.
So what sort of crowd do you get here? I assume it's people working and living around Dupont?
Yeah, it is—and that's actually what makes it the best crowd. It's people from around here. This is where you get the blend: You have the business district, you get the cultural influence right in this area. We get a lot of tourists, too.
So it seems like the most popular drink here is the regular mojito?
Yeah.
Besides the mango mojito, what else do you like to make?
The tropical banana, which has Malibu, creme de banana, DeKuyper Apple Pucker, and pineapple juice. I also like the "chocolate cake," which has Absolut Citron and Frangelico. [Both drinks are shots.]