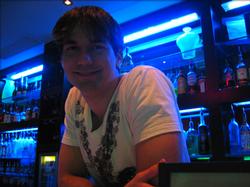 The folks at BeBar Lounge (1318 9th Street, NW) in Shaw know about all the hassles in getting a new hotspot open. Besides the normal adversity bar owners deal with, BeBar had to deal with a church across the street fighting against the bar gaining a liquor license. BeBar, which is owned by three gay man, would "promote an alternative lifestyle" that would "undermine the moral character" of the neighborhood, according to a letter sent to the Alcoholic Beverage Regulation Administration by the D.C. Black Church Initiative in 2006.
But BeBar prevailed, gained its liquor license, and opened in September of 2006, bringing its sleek decor and candy-flavored martinis to both a gay-oriented crowd that comes from all over DC and folks in the changing Shaw neighborhood looking for a drink. I spoke with Derrick Vann, bartender at BeBar, about how things are going.
How long have you been bartending here?

Since they opened. We opened our doors September 1, 2006.
And how's it going so far?
We're doing a really good job of pulling people in on the weekends. During the week we're still waiting for the neighborhood to bump up a little bit. It's a bit of a challenge to get people to take a taxi over on the week days. When we opened we had a cover, but since we know we're a bit out of the way for people, we have a way you can sign up online and not pay the cover, then you're on the list. Just your first name and last name and you're on the list for good and don't have to pay the cover.
How did you get into bartending?
I used to work at Cobalt in Dupont, and so did Mike Watson, our owner, we know each other from way back. It seemed like a natural choice to come over with him.
What do you like most about the job? Worst?
I like the sense of community. We have an exceptional bar staff and I think it breaks all stereotypes of what people think about bartenders. The interaction between them and our customers is great.
But the least fun part in general of bartender is carrying large drunk people out. That usually falls to me and I'm one of the least equipped to do it. Somebody once laid a curse on me one time, for seven years of bad luck, because I kicked him out. Got a nice voodoo hex laid on me.
What's your favorite drink?
You know the odd thing about me is that for 28 years of my life I'd never had a drink in my life. I started drinking about one year ago and I'll have a drink once in a while. I found that there's this coconut margarita that we do that I really like.
Does the bar have a signature drink?
Our martini menu has taken off. All of our martinis are candy-themed, gummy bear, pop rocks, so you always get a signature candy put into the martini. Our gummy bear is the best seller. Our martinis make up 20% of our sales, which is kind of unusual .
Do you have any insights on the drinking habits and trends of Washingtonians?
I know from planning the different nights here that we try to mix the music up a lot. A lot of Washingtonians are set in their ways, and they want the same type of music they always get in other bars, and we try to give them that, but also introduce them to new things. We've experimented with the music here, we've had great success with the hip hop party on Sundays, I really feel like we've tapped into an underserved community. Aaron Kelly DJs, he's very fluid, he's not afraid to flow in different tracks that still get people out on the dance floor. Every Sunday we have to stop letting people in cause it gets so crowded. And we're trying to build the weekdays.

When do you bartend?
I'm here Tuesday, Wednesdays, Thursdays and Saturdays starting at 5pm when we open.
Do you think the 9th street corridor will continue to develop?
Definitely. We're starting to see the hood ramp up a little bit. Two restaurants have opened within a block of us, and there's construction on either side as well for apartments. I've met tons of people who are now regulars of the bar who just moved here in the last year.
Got any specials?
We have a happy hour every weekday where our signature martinis are half-priced, $5, every happy hour from 5-9pm. And we do $3 Absolut during Sundays at the hip hop party.