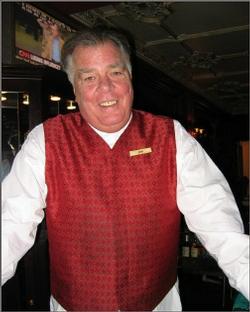 If you're looking for classic and timeless in a drinking spot, you can't do much better than the basement bar Off the Record at the venerable Hay-Adams Hotel. And if you're looking for the right mix of affability, charm, and discretion, bartender John Boswell is a good bet. I first encountered him two years ago when I had a drink at the Hay-Adams before moving temporarily to Chicago—a friend had told me Boswell was an institution I should experience before leaving Washington. My friend was right. A DC native, Boswell serves up classic drinks with ease, can regale you fascinating stories and opinions, and is an all-around nice guy. Read below for my interview with him.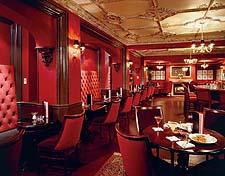 How long have you been bartending at the Hay-Adams?
About nine years now. I'd always wanted to work here. The place has such history. So I kept checking back for openings over the years. Turned out there was only way to get an opening—the previous bartender, who had been here for 25 years, passed away, and I got the job.
Does Off the Record have a signature drink?
The classics are our signature.
What gets ordered most?
Vodka martinis are our most popular drink. I think Sex and the City inspired a lot of that. Those drinks are all about the glass. That show started the whole craze for that glass. But now it's a little bit more back to the basics­—gin and vodka drinks. But most Washingtonians do drink the classics. They're not so much into the frou-frou stuff. Washingtonians are sincere and eager drinkers. And that's what I like about them.
What do you like most about the job?
I learn something new here every day. I meet the most interesting people in all of DC. I meet dignitaries from all over the world. But I can't name them—discretion is very important here. That's what a lot of people like about this bar, I think. You can be famous and come in here and no one will ever bother you.
You do lots of charity work in Southeast Asia. Can you talk a little bit about that?
Almost ever year I head over somewhere in Southeast Asia. In 2001 the bar was closed for renovations, so I spent a year traveling over there. I've done lots of fundraising events for charitable acts in Vietnam, Thailand, Burma. Helped to build clinics and hospitals. We even adopted elephants. (There are framed pictures of the elephants in the bar, and if you ever ask, Boswell will be more than happy to show you a photo album of his travels.)
Which bars do you hang out at?
Mostly Timberlake's, or Childe Harold up in Dupont—that's my neighborhood.
What's your favorite drink?
Whatever's closest! But really, probably a dry martini. It's classic. And healthy!