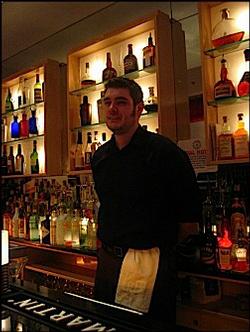 My first encounter with bartender Jonathan Mayo of Tabaq, the atmospheric and dimly-lit Mediterranean lounge on U street, was on Valentine's Day. I was meeting my date at the downstairs bar, and though we had planned on migrating upstairs to check out Tabaq's amazing view of DC from its high glass ceiling, we found Mayo's company and service charming enough that we spent over two hours just hanging out at the downstairs bar. Besides offering up spot-on drink recommendations, Mayo excels at being chatty when needed but moving along when patrons would rather just talk one-on-one. Mayo agreed to sit down with me to chat about bartending at Tabaq, bar patrons in Washington, and his favorite drinks.
How long have you been at Tabaq?
I've been here about a month now. When I first came to DC, I just flooded everywhere with my resume and they were the first to get back to me, so I chose to work here and I'm glad did. It's close to where I live, I like the neighborhood, and I wanted to be somewhere a little hipper, with a little bit of a younger crowd, and it's like that here.
Where have you bartended before?
I've been at this about five years — I started in Harrisburg, Pennsylvania, then moved to Baltimore where I was a bartender at Rusty Scupper. I'm starting up at George Washington University in the fall, studying economics and international business, but I plan on keeping on bartending here.
How did you get into bartending?

I was waiting at a restaurant — actually a Ruby Tuesday's — and one night one of the bartenders didn't show up and the manager said, "Alright, Jon, you want to learn how to bartend, go and do it." I kind of crashed and burned but I did alright. I mean, the other guy got fired, anyways, and I took over.
Does Tabaq have a signature drink?
Mojitos definitely — or maybe the lychee martini. Actually, we're rolling out a new drink list soon with input on what was popular from the last menu and what wasn't. Us bartenders collaborate and go to the owner and say let's try this or that and see how it goes. But the most popular drinks are definitely mojitos.
Plus, we have 45 types of vodka. That's an exceptional amount of vodka to have, and I think people are starting to realize that as well — people have started coming in and ordering specialty drinks, something with honey vodka or ginger vodka.
What's your favorite drink?
My personal favorite would have to be the Bombay martini. But I also like some of these new martinis — martinis with fruit purees.
What do you like most about the job? Least?

The clientèle is probably the best part of my job — because it's a younger, hipper crowd, people I can relate to, people I can have a conversation with for 20 minutes. Also, I love working upstairs because you have the open roof top, when it's nice outside, and you have the view of the monuments and everything.
We're lucky in that we never get crazy rowdy clients, the hours are good, the clientèle is good. The only thing I have a problem with ever is sometimes I come in, and am told I'm upstairs, but then you can be demoted to downstairs, and that's not as fun.
When are you at Tabaq?
Every weekend, six days a week, and Thursdays generally are a night off. I start 5 pm and go to close.
Tabaq is located at 1336 U St. NW. Call (202) 265-0965 for more information.