In an age of cell phones and BlackBerries, few people need watches to tell time. Why do so many people still wear them?
For some, watches are fashion accessories. For others, the watches they wear send a message about how they see themselves and how they want others to perceive them.
Stylish urbanites, young tycoons, and CEOs use their timepieces to let the world know how with it or successful they are. Presidents and presidential candidates sport low-cost watches to show they're regular guys—then, when they leave office for higher-paying work, they change what's on their wrist faster than you can say "tick tock."
Bill Clinton wore a plastic-banded Timex Ironman in the White House. George W. Bush is also known for his Timex. When it appeared at first that his watch had been pinched during a public appearance in Albania, much was made of the leader of the free world's inexpensive timepiece.
But that Timex wasn't an off-the-shelf model. According to the Times of London, it had been made for him by a former Yale classmate who worked for the watch company. It has the presidential seal on the face and is engraved with the words george w bush president january 20, 2001.
This wasn't the first tempest over Bush's Timex. In 2005, the Russian newspaper Pravda boasted that its country's leader beats Bush in the watch race. Vladimir Putin wears a $60,000 Patek Philippe.
American politicians use watches to burnish their images not just as ordinary Joes but also as outdoorsmen. Windsurfer John Kerry was seen wearing an inexpensive Freestyle Tide throughout his 2004 presidential campaign. John Edwards, a runner, sticks with his Timex Ironman.
A Salon.com writer quipped that when multimillionaire Mitt Romney, known for his starched formality, takes off his jacket and rolls up his sleeves on the campaign trail, it's "just a few inches up the arms, far enough to show that he is not wearing a Rolex."
After they leave the limelight, politicians often switch. Bill Clinton now has a watch wardrobe, according to observers. He owns at least three Kobolds—limited-edition watches from a tiny company in Pittsburgh that has attracted such buyers as actor James Gandolfini and newsman Brian Williams. Kobolds start at $2,850. Clinton has also been spotted wearing a Cartier Santos-Dumont ($12,600), a Panerai Luminor ($4,000 to $13,000), and a Roger Dubuis Much More ($19,100 to $86,800).
Many Washington men wear uniforms—whether they're buttoned-down and navy-suited or in oxford shirts and chinos. Their watches are one sign of individuality. These days, men not only are buying expensive watches; they're joining online forums to discuss their passion for timepieces, says Joe Turchiarolo of Liljenquist & Beckstead, a high-end local jeweler.
Lawyer Harvey Pitt wears a Rolex by day but switches to his poker watch, which has playing cards on its face, before he sits down at the poker table. Executive recruiter Lyles Carr also wears a poker watch. His is a Corum Bubble Royal Flush watch ($3,495). It must bring him luck—Carr played in the World Series of Poker this year.
"Young, up-and-coming watch enthusiasts love Panerai, IWC, Jaeger-LeCoultre, and Hublot's Big Bang watches for their daring size and modern use of materials," Turchiarolo says. "The CEOs of the dot-com world look for exclusivity and prestige and the top watchmaking skills of Patek Philippe, A. Lange & Söhne, and Breguet."
Rolex is the brand of choice for international buyers, Turchiarolo says.
Author and pundit P.J. O'Rourke has two Rolexes—he bought a Datejust ($5,000 to $20,550) ten years ago when he was between marriages and had a small windfall and few financial responsibilities, according to WatchTime magazine. He also owns a Rolex Air-King, which sells for around $3,800. But his favorite timepiece is one his father wore—a gold Hamilton with few bells and whistles.
No matter what men claim, size matters—at least in watches. Many of the most popular prestige watches have faces that measure close to two inches in diameter.
Men under 30 with hefty bank accounts prefer Breitling, which makes the jumbo of sports watches, says Mark Ferguson at Liljenquist. "They love the extra-large size."
Oversize watches with sleek designs are attracting buyers, agrees Adam Gorman of I. Gorman Jewelers in downtown DC. Xemex watches—long favored by Hollywood and sports celebrities such as Jay Leno, Sting, and Andre Agassi—are gaining in popularity here. They range from $900 to $29,950.
Aficionados often look for multiple-function watches that show more than one time zone or the phases of the moon, says Matt Rosenheim, president of the Tiny Jewel Box in DC. He has seen greater interest from buyers in the inner workings of watches.
Several luxury brands boast tourbillon mechanisms that promise increased accuracy because they balance the effects of gravity regardless of the position of the wearer's wrist. "Tourbillon is hot," Rosenheim says. Without it, a watch can be off by as much as four seconds in a ten-day period.
Many connoisseurs prefer mechanical watches to battery-powered quartz models, even though watches that rely on an old-fashioned mainspring may be less accurate. As one watch company puts it: "Craftsmanship, aesthetics, and tradition are all part of the allure."
Watches come in a variety of metals—stainless steel or stainless with gold accents is still the most popular. Rose gold is a surprising new look for men's watch faces. Watches with brown faces and bands are big this season, too, Gorman says.
Want to really knock their eyes out? A platinum Rolex Oyster Perpetual model with a band of diamonds around the ice-blue face is $54,550. "We sell these fairly regularly," Ferguson says.
A true watch lover may hold out for a Patek Philippe, even though there are long waiting lists for new models, Turchiarolo says. "Washington is a hotbed for Patek Philippe."
Why the short supply? The watches are still finished by hand.
For most women, fashion, not utility, dictates watch choices—they're seen as jewelry. They're also one piece of jewelry that women often buy for them­-selves.
Secretary of State Condoleezza Rice bought a gold Baume & Mercier bracelet watch from Tiffany in 1994. (Today a comparable model costs $6,000 to $7,000.)
Trendsetting watches by Cartier and Chopard are popular with Washington women, says Turchiarolo. Customers are attracted to the mother-of-pearl faces, exotic skin bands, and diamond bezels.
Women are wearing larger, bolder watches, too, says Diane Brown, Washington-market vice president of Tiffany & Co. Tiffany's Mark watch comes in two sizes; many women opt for larger model in stainless-steel quartz, at $2,400. Diamond evening watches are also big sellers at Tiffany's Chevy Chase and Tysons Corner stores.
Women are less likely than men to be watch collectors. But jewelers say they might trade up as their financial status rises. Buyers of Cartier's $2,100 tank solo watch are often recent college or law-school graduates, says Fariba Jahanbani of Car­tier in Chevy Chase. Later they may move up to pricier models such as the $24,650 La Doña, with its trapezoidal, diamond-set face and undulating gold bracelet band.
But if the woman runs for public office, there's a Timex with her name on it.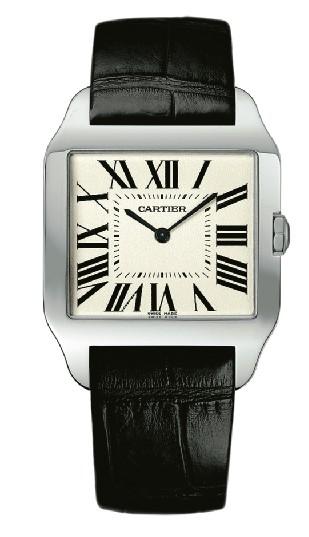 Bill Clinton: No More Mr. Timex
In the White House, Bill Clinton wore an inexpensive Ironman watch, trying to come across as everyman. Now that he's earning big speaking fees and book royalties, he has deep-sixed the Timex in favor of pricier timepieces. Most of his watches are oversize, with multiple dials and sports functions, and cost thousands of dollars—a big step up from Timex.