Lots of restaurant bars take cocktails seriously. Ask for a bartender and you might be referred to the mixologist, a bar chef of sorts who whips up libations with purées, reductions, foams, house-made sodas, and flavored ice cubes. The Washington area's creative cocktails run the gamut from whimsical Pop Rocks creations at Arlington's EatBar to refined twists on the classics at PS 7's in DC's Penn Quarter. Here are our top picks for where to head when you've had it with overpriced vodka tonics and Miller Lites. Have more suggestions? Leave 'em in the comments section.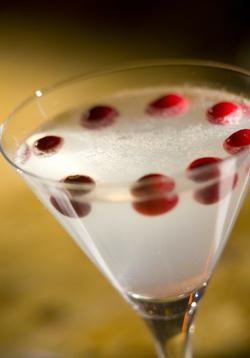 Central Michel Richard, 1001 Pennsylvania Ave., NW; 202-626-0015; centralmichelrichard.com.
When Michel Richard's much-hyped bistro opened last year, the fact that the famed chef was serving Bud Lite got more attention than the rest of his drink list. Buds are $5, but it's worth paying double for one of mixologist Justin Guthrie's inventive and delicious cocktails. The apple-cider martini tastes like fall in a glass, and its house-made apple cinnamon lollipop could be the yummiest garnish ever. Cosmos may have gotten old back when Sex and the City went off the air, but Central's sophisticated Halcyon Cosmopolitan—with Meyer-lemon vodka, white-cranberry juice, and marinated cranberries—justifies a comeback. Carrie Bradshaw would approve.
EatBar, 2761 Washington Blvd., Arlington; 703-778-9951; eat-bar.com.
Named for the traditional Wimbeldon breakfast of strawberries and Champagne, the Wimbledon cocktail at Arlington's EatBar is a martini glass of strawberry purée, vodka, and sparkling wine rimmed with Pop Rocks. The explosive candy adds some childhood nostalgia and fizzy fun, and the bright-pink drink is surprisingly less sugary-sweet than its appearance suggests. For something on the more masculine end of the cocktail spectrum, try the Fashionable Jack, bar manager Kyle Hunt's spin on an old fashioned made with Gentleman Jack whiskey, blood orange, brown sugar, and bitters.
Firefly, 1310 New Hampshire Ave., NW; 202-861-1310; firefly-dc.com.
At Dupont Circle's Firefly, tucked into the cozy Hotel Madeira, the drinks are as memorable as the romantic urban-treehouse setting. Cocktail master Will Earls recently departed for Hudson, but his drinks live on at Firefly—at least through December, we're told. Try the Old Tuscon, a subtly sweet concoction of Milagro Silver tequila, fresh lime juice, prickly-pear purée, and a spicy kick of chipotle-infused simple syrup, or the Jenn McRickey; named for bartender Jenn Schwartz, it's a blend of gin with house-made lime soda and preserved Key limes.
Hudson, 2030 M St., NW; 202-872-8700; hudson-dc.com.
Cocktails at the swanky, newly opened Hudson in DC's West End come adorned with everything from "cucumber air" foam (atop the refreshing Cucumber Collins) to a honeycomb lollipop (with the potent American Honey and Cherry Manhattan). The Lo-Jito—an 80-calorie mojito made with sucralose syrup and low-cal lime rum—may invite skepticism, but it's surprisingly delicious. In a blind taste test, I doubt I'd detect anything diet about the minty, limey, not overly sweet concoction.
Oyamel, 401 Seventh St., NW; 202-628-1005; oyamel.com.
They may be served in rather small juice glasses, but Oyamel's margaritas topped with "salt air" foam are some of the best in the city. In this lively, colorful spot, you'll see bartenders armed with whipped-cream-like cans, adding a hit of the salty foam to glasses filled with Cuervo, fresh lime juice, and Cointreau. A foam-free version spiked with hibiscus juice is nearly as good. Or opt for the Mexican gin-and-tonic, perked up with refreshing cucumber and cilantro.
PS 7, 777 I Street NW; 202-742-8550; ps7restaurant.com.
The quirky cocktails at PS 7's lounge come from an unlikely suspect: the peroxide-blond, tattooed pixie of a bartender, Tiffany Short. Her innovative drinks pack a punch and change with the seasons. Slide in this winter for the Hot Blond, her steamy twist on a hot toddy. If you're feeling adventurous, try the tangy and velvety Bolshevik, made with beet-infused vodka, or El Diablo, a spicy concoction that will remind you of snacking on smoky salsa.
PX, In true speakeasy fashion, there's no address or phone number. For info, call its nearby sister restaurant, Eamonn's, 728 King St., Alexandria; 703-299-8384.
Like any chef worth his salt, self-proclaimed "liquid savant" Todd Thrasher changes up his cocktail roster with the seasons. Thrasher's drinks complement the tasty food at chef Cathal Armstrong's Restaurant Eve and the Majestic, but at Old Town's tiny PX—modeled after a 1920s speakeasy—libations take center stage. If the blue light is on around the corner from Eamonn's, make your way up the stairs and sip a sparkling mojito, made with Blanquet de Limoux, mint-infused simple syrup, and mint bitters, or the slightly spicy Mule, house-made ginger ale and vodka served in a copper cup that keeps it icy till the very last sip.
Rasika, 633 D St., NW; 202-637-1222; rasikarestaurant.com.
Gina Chersevani is the creative mind behind the bar at this chic, always-buzzing Penn Quarter destination. Her best cocktails have an Indian accent—like the Spicy Queen martini, in which Snow Queen vodka gets sweet-and-spicy notes from star fruit, pomegranate, and fiery kashmiri chilies. Her simple gin-and-ginger martini is also a winner, shaken flawlessly with house-made ginger syrup. Read our recent interview with Chersevani here, where she reveals more of the secrets behind her cocktails.