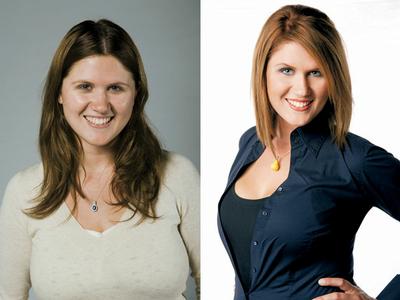 "Much More Me"
A woman tired of experimenting with hair color gets a professional's touch
Mandy Young, 27; Alexandria
Why she wanted a makeover: Working two jobs doesn't leave a lot of time for her hair. "When I have time to do anything to update myself, I'm usually too tired to make a drastic change and I opt for my same old haircut and makeup."
Where we sent her: PR at Partners.
Mandy Young, who spends her days working in public affairs for the Smithsonian American Art Museum and some nights as a server at Rustico in Alexandria, says it's hard to afford regular trips to a salon for coloring. She started doing it herself about five years ago and "kind of screwed it up," says Young, a natural brunette who has tried everything from reddish highlights to bleached blond.
Colorist Mary Shaffer Clendaniel, who works at PR at Partners' McLean location, changed Young's drugstore color to an auburn base with streaks of honey gold. "Her coloring is very cool and fair," Clendaniel says. "We wanted to keep her color rich but stay away from anything orange or yellow so her green eyes would really sparkle."
Young was worried about losing too much length, but the damage done from past coloring left her hair in need of a significant cut, says stylist Leah Le, who works at the PR at Partners in DC's Tenleytown. Le brought up the length, added layers for lift and body, and angled the cut to elongate Young's jaw line and neck.
Clendaniel defined Young's eyebrows and used a vibrant red lip color from the salon's own Pretty by PR brand. Though Young says it might take a few tries to get comfortable styling her new cut, she says, "I love the feeling of my flippy, healthy hair." And the color? "Much more 'me.' "
Getting the Look
PR at Partners, 14 area locations; pratpartners.com.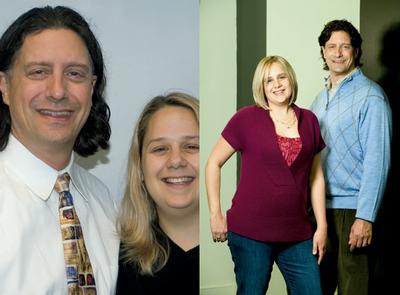 Double Take

A husband and wife both get new looks
Lisa Salerno, 35; Joseph Salerno, 43; Bethesda

Why they wanted a makeover: Lisa, who works from home as a legal editor, felt stuck in a rut: She wore jeans and T-shirts every day, and she'd sported the same hairstyle since age 14. Her husband, Joseph, wasn't sure he wanted to be made over, but Lisa suggested he could use a change, too.
Where we sent them: Wardrobe consultant Joyce Neave, owner of That Mom Inc., and Zin Hair + Col­our, both in Bethesda.
With a one-year-old daughter and a three-year-old son, Lisa needs comfortable clothing and wash-and-go hair. Joseph had plenty of shirts and ties, but as director of Internet services for a nonprofit conservation agency, he needed a business-casual look. While he thought his hair looked good long, he admitted "it needs something."
Joyce Neave steered the couple away from poorly fitting, neutral-colored clothing and toward more fitted items in colors that would brighten their faces. She put Lisa in a deep-plum cashmere sweater from Theory ($275), a silk Tahari top in shades of lighter purple ($148), and a Majorica necklace ($155), all from Bloomingdale's in Chevy Chase.
For Joseph, Neave chose a light-blue Stile Di Vita sweater ($39.99), an Izod shirt in beige with blue plaid ($19.99), and Ballin pants ($29.99), all from Filene's Basement in DC's Mazza Gallerie.
At Zin, owner and artistic director Uri Kandero brought Lisa's hair up to just below her chin, layering it but cutting it a little shorter in back. Colorist Stephanie Lackey replaced a light-blond, overprocessed color that washed out Lisa's fair skin with a mix of pale yellow, sandy blond, and caramel blond. Makeup artist Sanaz Zabiheian applied Bare­Minerals cosmetics in purples and golds around Lisa's eyes and a wine color on her lips.
Meanwhile, Kandero said Joseph's hair "needed to come off." It was all one length, lacking style and shape. Kandero gave him shorter layers that added texture. Colorist Daniel Ramirez used a dark brown to match Joseph's natural color and cover his gray.
"Even when I just do my five-minute style, my hair looks good," Lisa says. Joseph is so happy with his cut that he's thinking about going even shorter in the future.
Getting the Look
Joyce Neave, That Mom Inc.; 240-997-6077; bethatmom.com.
Zin Hair + Colour, 7711 Woodmont Ave., Bethesda; 301-654-2229; zinhair.com.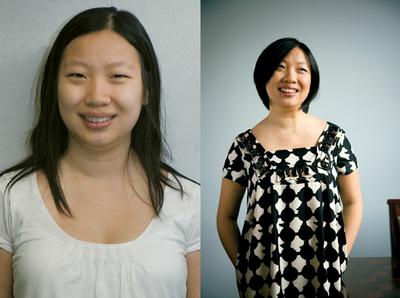 Mommy Chic
A mother with a newborn gets a haircut that's stylish but wash-and-go
Jona Lai, 31;Logan Circle, DC
Why she wanted a makeover: Lai became a first-time mom in October and wanted a new-mommy look that would be both stylish and easy.
Where we sent her: To Tara Salon & Spa in Georgetown and Fabiana Zelaya at Daisy Too in Bethesda.
Jona Lai had been wearing no makeup, her hair in a ponytail, and her husband's oversize shirts for months while pregnant with her first child.
After the birth of her baby girl, Lai—who works at the Department of Labor—said she was ready for an "outside that matches the inside of how happy I'm feeling."
Stylist Ismail Demir at Tara Salon & Spa took one look at five-foot-one Lai and knew her long hair was making her look even shorter. He brought up the length, adding layers at the crown for volume but leaving enough length for Lai to pull her hair back.
It's a wash-and-go style fit for a busy mom. "She doesn't need to spend time on her hair," Demir says. "She needs to spend time with her baby."
Makeup artist Rosie Aydemirli used warm browns and pinks to complement Lai's fair skin and dark hair.
At Daisy Too, Fabiana Zelaya put Lai in a "origami dot" dress by Karta ($385) that's free-flowing—perfect for a mom transitioning back to her prepregnancy body.
Lai says her new cut falls into place with little effort and looks great. Her husband thought she looked so fantastic after the makeover that he put on the suit he'd worn at their wedding and the two went out to lunch while Lai's mother babysat.
Says Lai: "He looked at me and said, 'You know, I thought I married a hottie—but I really married a hottie!' "
They've decided to make it a monthly date.
Getting the Look
Daisy Too, 4940 St. Elmo Ave., Bethesda; 301-656-2280.
Tara Salon & Spa, 2715 M St., NW; 202-333-8099; tarasalonspa.com.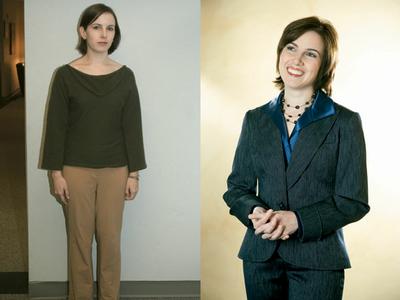 College to Career
A recent law-school grad gets a professional look
Amber Taylor, 27; Arlington
Why she wanted a makeover: To "escape my Ann Taylor–lined prison."
Where we sent her: Holly Horning, owner of Alexandria's Image Design Group, and Ronnie Elias Salon in Oakton.
Since graduating from law school two years ago, Amber Taylor has been trying to make the transition from college to work attire. The five-foot-tall attorney, who works at O'Melveny & Myers, says it's a challenge finding clothing that makes her look professional without seeming stodgy.
She tried shopping at a trendy Georgetown boutique but, she says, "was snubbed, Pretty Woman–style, in favor of two undergraduates and a woman with a chihuahua."
Image consultant Holly Horning says that shopping as a petite is the hardest shopping there is: You end up either looking cute or in clothing that doesn't fit. Horning helped Taylor focus on creating long, vertical lines, switching from skirts to pants with heels.
At Nordstrom, Taylor and Horning found a deep-blue Lafayette 148 petite suit ($258 for pants, $438 for jacket) and a teal blouse ($228); the deep blue and the strong necklace ($98, by Dabby Reid) give Taylor credibility and power, Horning says, while the teal brings out her blue-green eyes. The suit was altered for a good fit.
At Ronnie Elias Salon, owner-stylist Ronnie Hier and colorist and stylist Lucy Danoff applied reddish-brown color and highlights to Taylor's flat-brown hair to add dimension and accentuate her eyes. Hier gave Taylor a layered bob that graduates up in the back to add height.
Danoff applied makeup in pinks, plums, and taupes to Taylor's eyes and lips to complement her auburn hair and fair skin.
Two days after getting her new look, Taylor said it's exactly what she wanted—sophistication without frumpiness: "My boyfriend said it made me look more grown up, and that that was a good thing."
Getting the Look
Holly Horning, Image Design Group, 703-780-3774; theimagedesigngroup.com.
Ronnie Elias Salon, 2952-I Chain Bridge Rd., Oakton; 703-255-1114; ronnieeliassalons.com.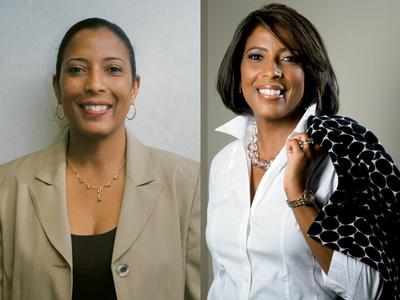 "40 and Fabulous"
A mom shifting back into the work world gets a fresh look
Ponsella Whitehurst 40; Lorton
Why she wanted a makeover: "I'm 40 and fabulous," Whitehurst says. But after a recent transition from stay-at-home mom back to corporate America, she felt it was time for a new look.
Where we sent her: Cultura Cosmetic Medical Spa in Chevy Chase for skin care, Elizabeth Arden Red Door Salon & Spa in Chevy Chase for hair, Urban Chic in Georgetown for clothing.
"I've had a ponytail for about seven years," Ponsella Whitehurst says. A few months ago, she picked out a new hairstyle, but when she sat in the salon chair, she couldn't go through with it.
Whitehurst also recently noticed uneven skin tone and blemishes. Dr. Eliot F. Battle at Cultura came up with a skin treatment plan. Whitehurst got mild microdermabrasion, a facial, and a mild chemical peel during her first visit. On a second visit, she received a Cutera Genesis laser treatment to minimize pores, a fractional laser treatment to even pigmentation and diminish scarring, and a Titan laser treatment to tighten skin. On her final visit, she got one more Genesis treatment.
Battle also recommended an at-home regimen of exfoliation, topical vitamin C to firm skin and repair sun damage, and vitamin A to thicken the skin and minimize oil glands.
At Urban Chic, which offers free personal-shopping appointments, manager Erin Ward helped Whitehurst pick out a pair of wide-legged Muse jeans by Joe's Jeans ($174), a funky but professional black-and-white polka-dot Milly funnel-neck cropped jacket ($515), and a Kenneth Jay Lane Lucite necklace ($55).
Elizabeth Arden stylist Adora Lisa Thompson said Whitehurst's black-colored hair made her look drawn, so she colored it brown and added gold highlights. She took off about four inches and added layers for body. Cultura makeup artist Germayne Williams used bronzer and golden-pink blush on Whitehurst's cheeks and gold and copper on her eyes to bring out her highlights. She steered Whitehurst away from bright-red lipstick and toward a softer taupe-pink.
The day after the makeover, Whitehurst said coworkers were doing double takes and her husband was speechless. "His mouth fell open, and he said, 'I have a girlfriend and a wife all in one!' "
Getting the Look
Cultura Cosmetic Medical Spa, Chevy Chase Pavilion, 5301 Wisconsin Ave., Suite 110; 202-237-9292; culturamed.com.
Elizabeth Arden Red Door Spa, 5225 Wisconsin Ave., NW; 202-362-9890; reddoorspas.com.
Urban Chic, 1626 Wisconsin Ave., NW; 202-338-5398; urbanchiconline.com.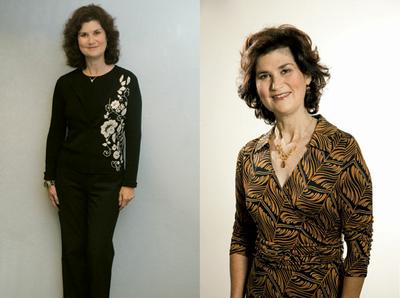 New Life
A cancer survivor wanted to look as happy outside as she feels inside
Sherry Conway Appel 58 ■ Upper Marlboro
Why she wanted a makeover: A three-time cancer survivor and recent empty-nester, Appel felt in a style rut and ready to embrace a new stage of life. "I want to have as much vitality on the outside as I feel on the inside," she said.
Where we sent her: Holly Horning at Image Design Group in Alexandria and Sugar House Day Spa & Salon, also in Alexandria.
Sherry Appel, director of media relations for the National League of Cities, wanted to keep her style as updated as the blogs and podcasts she works with. But shopping for clothes left her feeling stuck between looking too young and looking, she says, "frumpy and out of style."
Image consultant Holly Horning bridged that gap by suggesting classic pieces with color and pattern. At Nordstrom, Horning and Appel found a Classiques Entier faux wrap dress ($220) in a bold pumpkin-and-chocolate pattern that Horning says is modern and work-appropriate.
At Sugar House, stylist Karen King said that the rectangular shape of Appel's old hairstyle was drawing down her face. King added layers for volume and cut it shorter in the back to open up Appel's face and accentuate her brown eyes. King added depth and shine by mixing a chocolate base color and lighter-brown highlights.
Makeup artist Magaly Hadeed used Bare­Minerals makeup in browns, golds, and pinks to complement Appel's brown eyes and hair. Unlike most makeup brands, this all-natural line does not contain talc, which can settle into and highlight fine lines and wrinkles.
"I just think every once in a while you need a boost," Appel says, "and this was a wonderful boost."
Getting the Look
Holly Horning, Image Design Group, 703-780-3774; theimagedesigngroup.com.
Sugar House Day Spa & Salon, 111 N. Alfred St., Alexandria; 703-549-9940; sugarhousedayspa.com.
Check out more makeovers from the December 2007 issue of The Washingtonian. Plus, how to improve your skin in one hour.