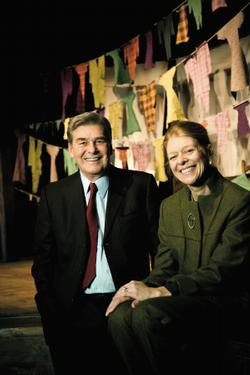 In 2001, on rundown H Street in Northeast DC, you might have seen a couple of well-heeled lawyers stepping through the remains of a movie house.
Pretty unusual. But not as unusual as what they did next: revive it as multiple arts spaces and a thriving cultural anchor for the community.
The vision of Jane Lang and Paul Sprenger, the gleaming Atlas Performing Arts Center, now houses four theaters, three dance studios, a cafe, rehearsal space, and offices for small arts groups. Step Afrika!, the Capital City Symphony, the Washington Performing Arts Society, the Washington Savoyards, and more have a home at the Atlas. Dance and music lessons are available.
The couple, who share a marriage and a law firm, found a builder to work at cost and used local designers and suppliers. Lang chaired a $20-million capital campaign, which wraps up this spring, and the pair expect the Atlas to be debt-free in six years.
"Jane went door to door uniting the community around the opportunity the Atlas represented," says Anne Corbett, head of the Cultural Development Corporation. "She decided to be the pioneer and to stick with it despite all obstacles."
The couple have made large donations for the arts and conservation and produced plays, but this is their biggest venture. Open a year, the Atlas has inspired several nearby bars and restaurants. Neighborhood housing values have tripled in five years. The city plans a light-rail line.
Soon, says Lang, "people will say, 'Gee, I wonder what's going on at the Atlas tonight.' And the answer will fill a page."