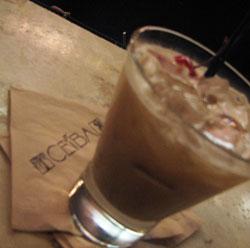 The spot: Ceiba, 701 14th St., NW; 202-393-3983
The drink: Heidi's Momma's Rhum Ball, a sweet drink that was intended as a holiday cocktail but has ended up a staple on the specialty-cocktail menu at this swanky Latin-inspired restaurant. It's made with Monte Cristo two-year-old rum, Kahlúa, Coco Lopez, and a splash of soda
Price: $9.95
First impression: A sweet mix of good and evil poured over ice, it looks strong but tastes rich and creamy. The rum adds the depth, bringing this drink over to the dark side.
Lasting impression: Ideal for after dinner and a yummy option for those too full to partake in the dessert menu. The drink is deceptively light, so don't be fooled by its muddy appearance. Only downside: If you let the drink sit too long, the melting ice dilutes the drink and the taste. All and all, it's worth a try. If she's available, ask Heidi, the bartender who invented the concoction, how her momma inspired the drink. It's a story worth listening to.
Grade: A-
Other drinks on the menu include the Dark and Stormy, mojito, and the Tamarind Delight, a mix of orange juice, tamarind syrup, and a splash of soda.