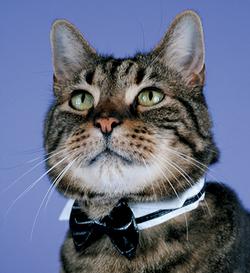 Cats
Cat stroller from Kittywalk Systems, $199.95.
Collar with gold-plated spacers and lavender and lilac beads from Felinerina, $49.95.
Lilli's Shanghai Asian skirt, $55.
Cat's-eye necklace with pearl from On the Catwalk, $58.99.
Crown necklace charm, designed by jeweler Dorothy Bauer and made from Austrian Swarovski crystal, $42.50.
Purrfect Poophaus, six-level structure where cats nap, play, scratch, and do their business, $339.99.
Trundle bed covered in imitation fur, from Favorite Pet Products, $54.99.
Lion cut, with hair shaved except for the head and paws, at Olde Towne Pet Resort in Springfield, $65 to $75.
Kitty Kaviar, flaked tuna in a can, $21.50 for a six-pack.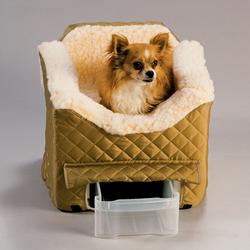 Dogs
Formal party dress by Glamour Dog, silk and polyester with a pearl ribbon on the back, $86.
Faux-mink coat by Glamour Dog, $120.
Paris Hilton pink satin nightgown, $69.95.
Swarovski crystal barrette, $34.
Giulietta leash made from crocodile leather and beaded with crystal stones, $64.95.
Charles Nantucket carrier made from red French leather, $424.95.
Harlequin Pom-Poms Bed with faux-leather headboard, footboard, and side rails, $1,400.
PetsCell from PetsMobility, GPS system and two-way communication device coming out later this year; price to be announced.
Mineral mud treatment, pedicure, and spa bath at Paws of Enchantment in Mount Rainier, $50.
Water workout in a 20-foot heated lap pool at Olde Towne Pet Resort in Springfield, $35.
Dog Pawfum from Juicy Couture, $60.
Pinot Leasheo from Bark Vineyards, gravy in a wine bottle to pour over your dog's dry food, $21.99.
This article is part of Washingtonian's Pets Guide package. Click here to read more about pet experts, dog walkers, groomers, and more.