The Price of Seduction
Cyla Weiner has been in women's panties for a long time. Thirty-three years to be exact, ever since she opened Sylene, an oasis of satin camisoles, French-lace demi cups, and suck-it-in body shapers in Chevy Chase, which she now runs with sister Helen Kestler. The shop's foundation, if you will, was years of working for their parents' lingerie boutiques in New Jersey.
Risqué Business
Cyla, whose skills as a bra fitter once landed her in the White House to work with Nancy Reagan after the First Lady's mastectomy, talks to us about the business of unmentionables.
Washington has the reputation of being conservative. Are women conservative with their lingerie?
After all these years, I still can't predict what someone is going to buy. I've had women in their fifties say, "I only wear thongs." I think great underwear gives everyone a different persona. A woman who dresses in a suit every day still wants to feel really good underneath. One of my bestsellers is the bump pad. It's a bra that's more padded on the bottom, which is great for creating cleavage.
If a man walks in here alone, what is he looking to buy?
Men fall into two categories. If he's comfortable being in a lingerie shop, he's the more adventurous type and he'll go for something pretty in an unusual color, like pale pink or green. If he's a shy guy, he'll ask for help. As long as he knows her bra size, that's 90 percent of the battle. And all men like lacy and sexy and black.
What would a woman wear if there were no such thing as men?
They'd still wear bras; they'd still want to feel sexy. There was a revolution in the '60s when women burned their bras. Today, women want to be comfortable in their bras and in their own skin.
What are the basics any woman needs?
She needs six kinds of bras, the six S's: seamless, sexy, sport, strapless, spa (something with light support so you're not flopping around), and specialty (a bra that works with a halter top, backless dress, or low-cut T-shirt).
What's the best all-around shaper?
A camisole is great for getting rid of back fat. Body Wrap and Cass and Co. make particularly good ones.
Do you have a window into a customer's life based on the lingerie she's buying?
Let's just say I know how to be discreet.
Can you tell the bra size of the next woman to walk through your door?
Usually. I've been doing this a really long time.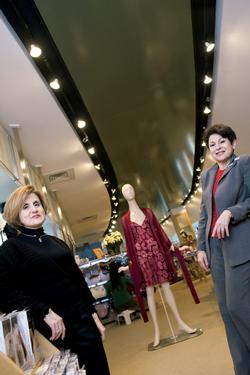 If the Bra Fits
According to bra manufacturers, eight out of ten women are wearing the wrong size. Enter the experts.
"Bras are my thing," says Frances Crespo, owner of the Full Cup in Alexandria (703-836-9441) and an expert at proper fitting. Other stores that measure up: Sylene in Chevy Chase (301-654-4200); bridal favorite Trousseau in Vienna (703-255-3300); Dor-ne Corset Shoppe in Silver Spring, an institution for more than 70 years (301-589-5151); and Neiman Marcus (202-966-9700), where fitter Cindy Hanson has earned devotees.
And in the spirit of Mary Kay and Pampered Chef comes Zyrra, custom-fit bras sold through girls-night-at-home events. Think of it as a Tupperware party for your . . . well, you get the picture.
Cofounder Christi Andersen came up with the idea while a graduate business student at Babson College. "The bras out there weren't designed for me," says Andersen, who wears a triple-D cup. "And my friends told me how much they hated shopping for bras."
She spent three years developing software that uses 12 measurements to create custom bras. "You get a bunch of girlfriends together, drink wine, and go off and get measured," she says. Visit zyrra.com to find a representative.
Swan Thong
For the thong-averse, who don't consider dental floss suitable underwear, raw-cut panties are the latest weapon in the battle against panty lines. Made from second-skin microfiber, the panties have no visible seams or hems. Try the Commando Girl Short, shown here ($26 at Neiman Marcus and Sylene), or Calvin Klein's Perfectly Fit Total Comfort bikini ($15 at Bloomingdale's).