FOR HIM
Framed reproduction of Jim Dine's Rancho Woodcut Heart ($50, momastore.org)
A heart for Valentine's Day? Not very groundbreaking, and most guys may need some convincing before hanging it on their wall. Just remember to tell them what Dine once said about criticism: "I've never had an easy relationship with critics. I hold a lot of homicide in my heart. If this was another time, I'd be packing a piece." That should be enough to give this gift some extra badass points.
Class tie ($49.99, fcusbuymail.com)
Keep your guy stylish à la The O.C.'s Seth Cohen with this fleck-patterned skinny silk tie. It's good for both inside and outside the office . . .
Emilio shoe ($38.99, shop.guess.com)
. . . and would look great on your guy with some jeans, a corduroy blazer, and these shoes. Though available only in dark brown, this skate-style sneaker is versatile enough already—working both at a casual dinner and a late-night dance party at the Black Cat.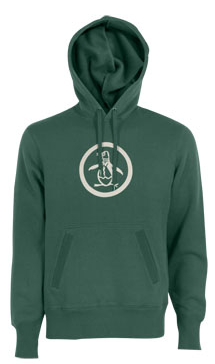 Fleece pullover hoodie ($49.99, penguinclothing.com)
Whether your guy dresses alternative or is just in need of a new pullover, this green Penguin hoodie should do the trick. The only catch: All sizes except medium are out of stock.
Cardboard Speakers MUJI ($42, momastore.org)
Environmentally friendly and simple, these collapsible speakers are perfect for a significant other who cares about saving the world almost as much as he cares about you.
Canvas frame leather belt ($38, bananarepublic.com)
Belts aren't necessarily the most personal gifts, but we're on a budget here, remember? Plus the red canvas is a nice touch that gives a special Valentine's Day feel to the belt, which can also be worn on any other occasion.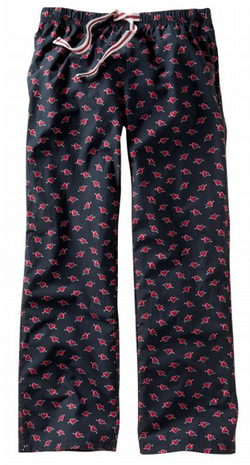 Valentine's Day PJ pants ($19.50, gap.com)
You could go for heart-printed boxers, which always look silly when spotted on a guy anytime after Valentine's Day, or get him PJ pants instead. Navy with arrow-crossed red hearts, they're are a bit cheesy, but you won't have to worry about that since they'll be worn only inside the house.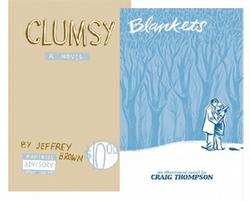 Blankets by Craig Thompson ($29.95) and Clumsy by Jeffrey Brown ($10, both at topshelfcomix.com)
Why get him a copy of Atonement when you can give him two great graphic novels about young love and sex? Thompson's Blankets is the more sentimental of the two—a coming-of-age romance between two adolescent misfits—while Brown's Clumsy takes a harsher look at the realities of adulthood in terms of relationships, sex, and friendship.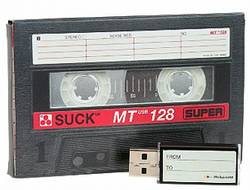 FOR HER
Mix Tape USB Stick ($22, urbanoutfitters.com)
The iPod has done to mix tapes what video did to the radio star, but if you still fancy yourself John Cusack in High Fidelity, this gift is the perfect way to continue your romantic (and compulsive) desire to make music compilations while keeping up with the times.
Swan Song earrings ($49.95, anthropologie.com)
Forget about their name—these earrings, with tiny swan figures hooked inside each hoop, are both adorable and a steal at almost half their original price.
Bijoux jewelry box ($38, anthropologie.com)
If you go for the earrings, you might want to check out this compact (3.25 by 6 inches) jewelry box also from Anthropologie. It's decorated with sparkles and beads, and it has a small mirror and ring compartment.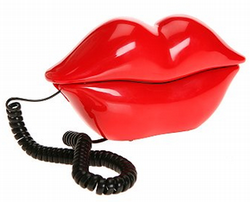 Hot Lips Phone ($20, urbanoutfitters.com)
At any other time, this gift would come across as kitschy and ridiculous, but thank Juno screenwriter Diablo Cody and star Ellen Page for making silly, pregnant teenage girls and silly-shaped phones cool for at least the next 15 minutes.
Rainbow satchel ($39.99, fcusbuymail.com)
A girl can't just spend money; she has to look good while doing it, too. This satchel, with its thin buckles on the front flap and complementary autumnal shades of purple and brown, is the ideal candidate.
Vinyl laptop bag ($30, store.americanapparel.net)
This is perfect for those who are constantly on the move and must carry books and their computer everywhere while also looking stylish. The bag has a front pocket for iPod or BlackBerry storage and is available in black, crimson/black, and black/oatmeal.
Fairytales Are True Shine on Skimmer ($28, urbanoutfitters.com)
When it comes to picking shoes, stay away from pumps and wedges and instead stick with the basics. You can't really go wrong with flats, and with their buckle strap at the ankle, these may be just the right fit between comfortable and chic.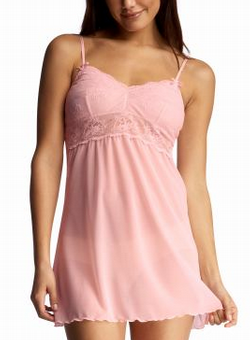 Lacy babydoll ($39.50, gap.com)
Do we even have to explain why you should get her this?
Want more Valentine's Day advice and information—from where to dine, to where to go, to what gifts to buy? Click here for the Washingtonian Guide to Valentine's Day.