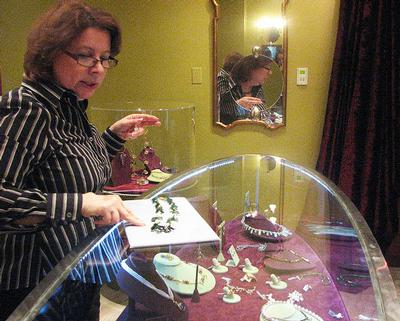 "I pick things that are different enough or beautiful enough that they appeal to everyone," says Irene Barbieri, owner of Mia Gemma, which relocated a month ago from Alexandria.
Barbieri says most fine jewelry stores carry pieces that don't vary much, save for a few differences in metal types and styling. Wandering into the velvet-curtained Mia Gemma, a shopper would have trouble finding more than two pieces that look similar.
An intricate spiral-springed cuff of oxidized silver sits in one princess-style jewelry case in the back corner. In another corner, a matching case displays a bold, chunky necklace under a suspended, turning mirror.
The variety of booty at Mia Gemma is the result of Barbieri's constant search for jewelry designers who aren't represented at any other shops in the area. French-born Ziio (Elizabeth Paradon) creates some of Barbieri's most popular pieces. A lighted display of squares behind Mia Gemma's main counter frames a $450 Ziio beaded, tribal-themed necklace.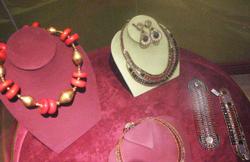 "You could put this necklace on over a black dress and that's all you need to wear," Barbieri says.
A display case in the front of the shop holds stones of elaborate pinks and reds in the spirit of Valentine's Day. A sparkling, pink drusy agate stone is popular right now, Barbieri says, because it's not too expensive but still eye-catching.
Across the room from a Venetian glass chandelier, Barbieri unlocks a case holding a silver crocheted cuff and leaflike crocheted necklace by Randi Chervitz, an artist in Missouri. The cuff, which goes for $350, is in the midrange of prices at Mia Gemma. Five strands of 18-karat cable hold a pendant bejeweled with peridots, phrenite, pink tourmalines, and grossulan garnets for a price close to $8,000. Barbieri also carries crocheted ball earrings for $55.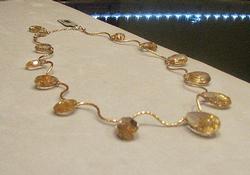 Barbieri, who spent 20 years in marketing and business development for a medical-research company, carries engagement- and wedding-ring settings that customers can match with their own diamonds. Her Web site lets shoppers create a jewelry profile; Barbieri will send a personal e-mail suggesting items based on a customer's tastes.
Barbieri says she wants the Mia Gemma experience "to be one that's so inviting and so comfortable and not intimidating."
Mia Gemma, 933 F St., NW; 202-393-4367; miagemma.com.