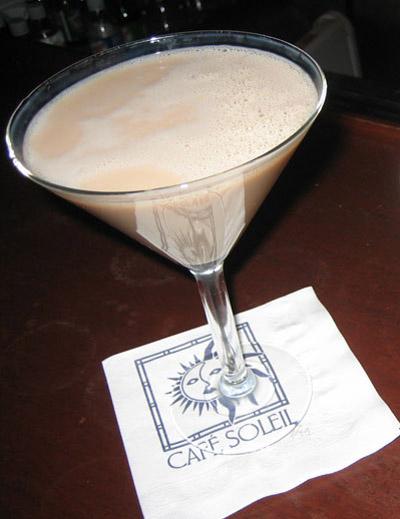 The spot: Cafe Soleil
The drinks: A chocolate-, fruit-, and love-inspired February cocktail lineup
The price: $10
Orange Crème
First impression: The mellow tangerine-colored martini comes complete with froth, promising a smoothielike experience. The initial sip, however, dashes all hopes of an Orange Julius-style thirst-quenching—the Smirnoff orange vodka and Godiva white-chocolate liqueur come on a bit too strong in the first wave of flavor. Grand Marnier follows close behind. Despite its fluffy appearance, this drink is by no means soft.
Last impression: This upscale version of a screwdriver grows on you. The light, bubbly froth—made with real orange juice and cream—provides a necessary tang to counteract the liquor.
Grade: B+
Chocolate-Covered Cherry
First impression: This deep, mahogany-purple drink gives off a sweet aroma and looks sort of like children's cough syrup. But no need to close your eyes and hold your breath with your first swallow—you'll be pleasantly surprised.
Last impression: The drink—Godiva dark-chocolate liqueur and amaretto with a hint of cherry flavor—isn't too heavy or sweet, despite its ingredients. A giant glass is probably too much for the taste buds, but to share with a Valentine or sweetheart? Could be the cherry to top off the perfect date.
Grade: B
Chocolate Raspberry
First impression: Don't let the Yoo-hoo color fool you; as soon as you catch a whiff, you'll realize this isn't just any chocolate milk. With Baileys Irish Cream and Godiva Dark, the cocktail is a creamy upgrade from that lunchtime drink. Sweetened with Smirnoff Raspberry, it's initially hard to put down.
Last impression: We love the classic chocolate-rasberry combination, but the cocktail begs for something original. A few sips in, it really is rather boring.
Grade: B
Strawberry Shortcake
First impression: The ingredient list—Smirnoff Vanilla and Raspberry, amaretto, Baileys, and strawberry purée—looks promising. This martini, however, will shock you (and not in a good way) with its screaming-pink color and an overwhelmingly sweet smell. The first sip might be just enough.
Last impression: Drinking liquid cotton candy is just too sweet, even on Valentine's Day.
Grade: D+