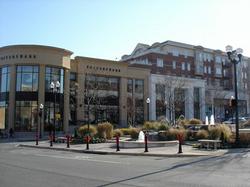 Closest Metro: Clarendon on the Orange Line.
THE SCENE
Clarendon and Courthouse are two of Arlington's family of urban villages (which also encompasses nearby Rosslyn and Ballston). Clarendon and Wilson Blvds create the main drag that connect the two neighborhoods and are home to several retail stores, restaurants, and bars. In spite of running into one another, both are characterized by unique differences. Clarendon Blvd. houses a cluster of familiar chain retailers, while Wilson Blvd. is home to a number of "mom-and-pop" shops.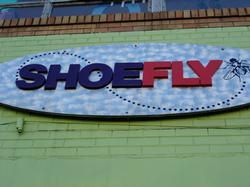 SHOPPING
a.k.a. Spot (2509 N. Franklin Rd.; 703-248-0093). This specialty pet boutique sells dog and cat accessories like beds, toys, leashes, and collars. Well-behaved dogs are encouraged to come to the shop, and you can bathe them in the doggie self-wash at the back of the store, complete with a special fur dryer. (Advanced reservations for the doggie wash suggested.)
Ispirato (2620 Wilson Blvd.; 703-875-8182). Playing the double role of an art gallery and a home decor boutique, Ispirato is a tiny shop featuring whimsical paintings by owner Kevin Perez and his wife Lilian Wanandy-Perez. In addition to the art, the ceramics, glass, toys and pillows they carry combine bold colors and simple shapes for a modern approach to interior design.
The Papery (2871 Clarendon Blvd.; 703-875-0391). This fine paper shop customizes stationary for personal or business use. Other items like photo albums, frames, and candles make it the perfect place to shop for a gift. You can also pick up cards and wrapping paper.

ShoeFly (2618 Wilson Blvd.; 703-243-6490). This little boutique is chock full of shoes from designers like Miz Mooz, Sugar, Matisse, and Andrew Stevens. Don't let the name fool you—they also carry funky purses and jewelry for women who like to accessorize.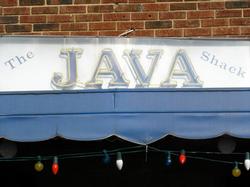 DINING
Faccia Luna (2909 Wilson Blvd.; 703-276-3099). With so many choices for pizza out there, Faccia Luna sets itself apart with an "urban trattoria" feel (informal and inexpensive dining with a more upscale feel than traditional pizzerias). The restaurant's namesake pizza is topped with sausage, fresh mushroom, and roasted red pepper—yum.
The Java Shack (2507 N. Franklin Rd.; 703-527-9556). This cozy coffee house sits on the end of a residential street, and the friendly staff will make you feel right at home. In warm weather, sitting on the front porch with coffee or a sandwich is a great lazy day activity.
Tallula (2761 Washington Blvd.; 703-778-5051). A trendy spot that seems to appear out of nowhere, Tallula is a restaurant, bar and lounge that offers American cuisine and a wine list of hundreds of wines by the bottle. For lighter fare, try the "Amuse Yourself" menu, which consists of two-bite finger foods like baby burgers and risotto fritters that range from $2.25 to $3.50.
Whitlow's On Wilson (2854 Wilson Blvd.; 703-276-9693). A local favorite, Whitlow's is the place to be at brunch, happy hour, and on weekend nights. Their specialty burgers are half priced on Mondays, and Tuesday through Friday all sandwiches are half priced between 11 a.m. and noon. Live music and a spirited bar crowd make it a young hangout at night.
ART & FUN
Clarendon Day Every fall, Clarendon Day is held to celebrate food, art, and music. Here, you can participate in activities like burrito eating contests, rock wall climbing, and jumping in the moon bounce while visiting vendor booths and listening to the live music. Food is provided by several local restaurants like Mexicali Blues, Hard Times Cafe, and Earl's Sandwiches.
Farmers' markets (N. Courthouse Rd. and N. 14th and Uhle Sts.; 3100 Wilson Blvd.). On Saturday mornings from 8 AM to noon, you'll find fresh produce from over 30 vendors spread out in the heart of Courthouse at the Arlington Farmers' Market. Additionally, the Clarendon Farmers' Market is held every Wednesday from 3 to 7 PM right outside the Clarendon Metro station and features over 15 vendors.
Georgetown Flea Market (Wilson Blvd and Veitch St.). Now being held in the Court House metro parking lot, the Georgetown Flea Market is held year 'round every Sunday and features antiques and collectibles like furniture, art, china, vintage clothes and old toys. You can peruse the vendor tents from 9 to 4 on Saturdays and 8 to 4 on Sundays.
Iota Club & Cafe (2832 Wilson Blvd.; 703-522-8340). There's live music every night at the Iota Club & Cafe, ranging from no admission to $15 covers. You're likely to hear acoustic music every Wednesday at 8 during open mic night. A poetry series is held on the second Sunday of every month from 6 to 8, where open readings are followed by readings from featured poets.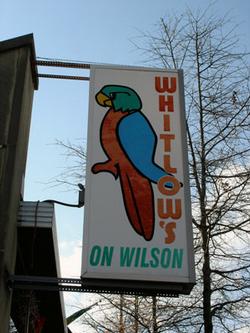 GREAT ITINERARY
The perfect Saturday might start out early at the Courthouse Plaza farmers' market, where you can browse the tents for fresh produce while you drink a latte from the Java Shack. Then, stop into Whitlow's for brunch where you can take advantage of the $14.95 buffet.
Afterwards, go shopping at some of the stores above, and be sure to check out the CD Cellar (2614 Wilson Blvd.; 703-248-0635), where you can buy new and used CDs and trade in your old ones for cash.
Then, catch the latest movie at AMC Courthouse Plaza 8, which is conveniently located right above the Courthouse metro stop. For dinner, try the Clarendon Grill (1101 N. Highland St.; 703-524-7455); sit outside on the patio if it's warm enough and order an entree like Carolina jambalaya or grilled rainbow trout stuffed with crab. If you're up for a night out, head to the Clarendon Ballroom (3185 Wilson Blvd.; 703-469-2244) next where you can dance to live music in their grand hall or go up to the rooftop for drinks.
Want more neighborhood guides for DC, Maryland and Virginia? Click here.
This article is part of Washingtonian's Visitors' Guide. For more articles like it, click here.