Photographs by Ron Blunt.
Amy Weinstein and her husband, Philip Esocoff, are veteran DC architects, but they have never considered building a home of their own.
"It's just something we've never aspired to," says Weinstein. Both have been too busy designing for others, she says. "We've thought about doing a vacation home, but that probably won't happen either."
Instead, the two have put a distinctive stamp on their 1,600-square-foot condominium.
Where others would use drywall to break up the large, open space, Weinstein and Esocoff use furnishings collected over the years to serve as architectural features. An enormous chestnut altarpiece—picked up from a remodeled church—divides the living room from the study, which is dominated by a three-dimensional art moderne bas-relief on the wall. A 1980s Orvieto chair in bold black-and-white horizontal stripes separates the living and dining rooms.
Adding skylights wasn't an option in the sixth-floor apartment, but an iconic 1960s pop-art Pipistrello table lamp and a glass-domed Taccia lamp throw as much attitude as light around the space. One of the most effective features is an inventive lighting system by Ingo Maurer: Two wires strung across the living-room ceiling are hung with halogen lamps that can be moved.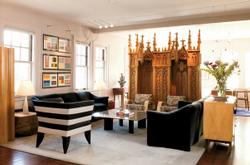 The couple bought the two-bedroom, two-bath apartment on Connecticut Avenue 22 years ago. The 1910 building had been converted into cheap condos by a developer who'd hoped eventually to tear the edifice down. But it was one of the first buildings protected under DC's historic-preservation regulations.
The couple did tear out a couple of walls and a harvest-gold kitchen but otherwise had a blank slate to work with. "There was no elaborate molding or fancy floors," says Weinstein.
To create an even more neutral space, the walls were painted a rosy gray—which she calls "the ultimate neutral" because it has so many hues in it that it coordinates with everything. What little molding there is was painted to match the walls, to downplay it. "It's kind of recessive so that our things—our objects, our furniture, the fabrics—are what give it a sense of being our home," she says.
Those things make for an eclectic collection—from the antique altarpiece to a midcentury Eames screen to an Ikea keyhole-shaped clock and Asian-influenced Mexican pottery. "We wanted a piece from every decade of the 20th century," says Weinstein.
At one point, the couple did seek help from an interior designer who offered them, says Weinstein, the smartest advice they'd ever heard: "She said, 'You need two matching large sofas that are background pieces, a neutral carpet under them, and a neutral, large coffee table. Once you get those things, they will be an anchor for everything else.' "
Although the mix of things seems random, coordination is at work. "You look for an underlying continuity in shape, line, and proportion," Weinstein says, pointing to the altarpiece and the bas-relief as an example. "They're both three-dimensional. They're both rich in texture, and it's a texture not by painted line but by shadow so they have that relationship to each other—even though," she adds with a laugh, "they have no relationship to each other at all."
Expert Tip
Displaying a lot of decorative objects, particularly when mixing styles, requires enough space to prevent clutter. "Everything needs to have visual air around it," Amy Weinstein says. "If you start to lose the ability to see a piece because it's crowded in with others, maybe it's time to delete one."
Select Resources
Paint: Rosy gray by Benjamin Moore, number BN31.
Ingo Maurer lighting system: available at Illuminations, 3323 Cady's Alley, Georgetown, 202-965-4888, and 415 Eighth St., NW, 202-783-4888; illuminc.com.
This article is part of the 2008 Great Home Design package. To see the rest of the package, click here.