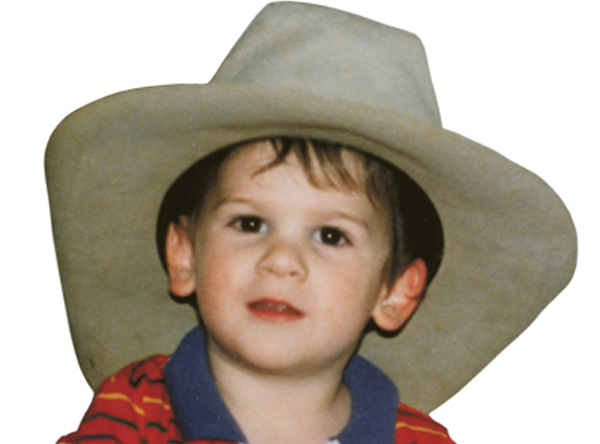 I was driving up the GW Parkway when my friend from California started fooling with the radio. Scanning through the static, she paused on a country station. Toby Keith's "Should've Been a Cowboy" was playing, and I started singing: "I might of had a sidekick with a funny name, running wild through the hills chasing Jesse James . . . ."
She scanned on, passing through the rock, talk, hip-hop, and Hispanic church services before landing back at the country station. George Strait's "You Know Me Better Than That"—a song about falling in love under false pretenses—came on, and I belted it.
"I miss picnics and blue jeans and buckets of beer; now it's ballet and symphony hall," I sang, pointing to the Kennedy Center on the far side of the Potomac.
"What are you doing?" she asked.
"Singing," I said.
"No, I mean how do you know all the words?"
"I don't know. I just do."
The drums to Montgomery Gentry's "My Town" kicked in, and I started again—"There's a for-sale sign on a big old rusty tractor. You can't miss it. It's the first thing that you see. . . . "
I haven't listened to country music regularly in years, but I've discovered that my brain remains a stocked cellar of country songs. I put on a heck of a show at stoplights.
Where I'm from, ten hot minutes north of Nashville, country is the music people live by. It plays in sheds where fathers store tools and tackle boxes. It plays in diners where old men lean over ashtrays. It plays in government buildings—especially around quitting time—and on the phone when you're holding to order pizza.
The eye contact made over bonfire flames after high-school football games intensifies with the steel guitar from some slow country song. At least mine did, with Amy Young, one long-lost Friday night.
There were three things the Garretts made sure I had the summer I painted their house—water, bug spray, and a radio set on a country station. When I fell off the ladder, the last thing I heard before I hit the mud was Dwight Yoakam.
When I think about home, there's hardly a thought that isn't tethered to a country song. I remember my grandfather swerving around on sidewinding streets that leveled out through tall tobacco fields, singing with Randy Travis: "My love is deeper than the holler, stronger than the river, higher than the pine trees growing tall up on the hill. . . ."
My uncle had me listen to Kenny Chesney's "Back Where I Come From" in his truck before I drove off to college. At the part where Chesney sings, "That's where I come from, I'm an old Tennessean," he pulled me close and whispered in my ear, "Don't forget where you came from, boy."
Years from home, I'm still fluent in country music. In Washington, most folks don't speak the language. I was talking to my uncle about this a few weeks ago, and he had one suggestion: "Come home."
But I've learned home's something we carry with us wherever we go. It's in the meals we make. It's in the stories we tell and the prayers we pray.
Someday I'll go back. Those silver hills around Nashville are a great place to raise a family. For now, whenever I want to head home, I've got the songs to take me there.