Closest Metro: Bethesda, on the Red Line.
THE SCENE
The majority of Bethesda's culture and entertainment is an easy walk from Metro on streets that are alive with window shoppers and theater-goers. In warmer weather, restaurants set up sidewalk tables, and weekends often buzz with festivals.
SHOPPING
Cecile & Jeanne (7249 Woodmont Ave., 301-652-5333). The celebrated jewelry of this Parisian company glitters in its picture windows. Choose from six jewelry collections and a crop of leather handbags.
Denim Bar (4939 Cordell Ave., 301-986-5260). Find endless styles, brands, and colors of jeans at this edgy clothing store. Denim comes from obscure brands like Evisu and Nudie as well as better-known names like Chip and Pepper, Joe's, True Religion, and Paige.
Luna (7232 Woodmont Ave., 301-656-1111). This stylish boutique boasts the latest in chic fashion and accessories. Shoppers can browse brands such as Rebecca Beeson, Velvet, Treesje, and other high-end designers.
Mustard Seed (7349 Wisconsin Ave., 301-907-4699). Directly across from the Bethesda Metro stop, this funky clothing store stocks new and used clothing, jewelry, and accessories for men and women. Goods range from Levi jeans to Prada bags and colorful vintage finds from as far back as the '60s.
ViVi (7254 Woodmont Ave., 301-656-5626). This industrial-style gallery space features home furnishings from small artisan companies and up-and-coming designers. A constantly changing showcase ensures every piece is unique.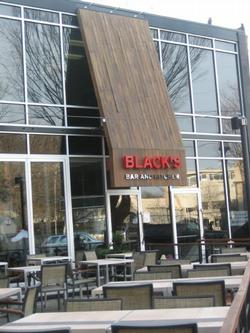 DINING
Black's Bar and Kitchen (7750 Woodmont Ave., 301-652-5525). You can't beat the weekday happy hour at this sleek, wood-paneled bar. Half-price mussels, raw oysters, and fried squid come with martini specials and cheap draft beers. In the summer, try to nab one of the tables on the deck, which is adorned with an Asian-style stone pond.
Faryab (4917 Cordell Ave., 301-951-3484). Don't be fooled by the unassuming decor of this Bethesda favorite; the Afghan food is as sophisticated as it is authentic. The addictive aushak—boiled leek dumplings topped with yogurt and meat sauces—are like Pringles: you can't eat just one.
Grapeseed Bistro (4865 Cordell Ave. #C, 301-986-9592). Intimate tables adorn this modern new-American bistro, where each dish comes with a suggested wine pairing. The menu changes regularly, and a list of small plates encourages sharing.
Mia's Pizza (4926 Cordell Ave., 301-718-6427). Bethesda-ites swear by the thin crusts at this kid-friendly restaurant that also offers habit-forming salads and cupcakes. Menu choices include a meatball pie and the rustico, smeared with pesto and topped with sliced potato.
Passage to India (4931 Cordell Ave., 301-656-3373). The hushed dining room with its dark, carved-wood panels and the bright flavors in regional dishes make for a romantic experience at this four-star gem. At dinner, let chef Sidhur Seth make up one of his sampler platters for you. Or stop by for a lunchtime special.
Pines of Rome (4709 Hampden Ave., 301-657-8775). A Bethesda institution for years, this rustic Italian joint may lack atmosphere, but it turns out authentic family-style portions at reasonable prices. Regulars recommend the pizzas.

ART & FUN
Bethesda Art Walk (free guided tours meet at Bethesda Metro Center, at the corner of Wisconsin Ave. and Old Georgetown Rd., 301-215-6660): The second Friday of each month from 6 to 9 PM, 12 galleries and studios open their doors to showcase their photography, painting, sculpture, and jewelry. All within walking distance of each other, the venues make for an enjoyable evening stroll through the heart of Bethesda.
Bethesda Theatre (7719 Wisconsin Ave., 301-657-7827). With its curved art deco exterior, the Bethesda Theatre is hard to miss on busy Wisconsin Avenue. Grab a bite at its Green Room Cafe before or after watching an off-Broadway production.
Capital Crescent Trail: Lace up your sneakers for this 11-mile trail that runs from the Georgetown waterfront, up into Bethesda, and east into Chevy Chase and Silver Spring. Bikers, rollerbladers, runners, and walkers can access the trail at the corner of Bethesda and Woodmont avenues.
GREAT ITINERARY
Start your day with a pastry and fresh seasonal fruit from the Montgomery Farm Women's Cooperative (7155 Wisconsin Ave., 301-652-2291; open Wednesday and Saturday 7 to 4, Friday 9 to 5; outdoor sales area also open Sunday 8 to 5). It's a farmer's market, flea market, and craft market rolled into one. Just a block away, at the corner of Elm Street and Woodmont Avenue, a bustling commercial center awaits with some of our favorite shopping picks. Wind your way up to Old Georgetown Road into Woodmont Triangle, the heart of Bethesda. For an authentic Thai lunch, try Nark Kara (4928 Cordell Ave., 301-652-2635), with its exotic interior and spicy curries. Be sure to stop in clothing boutique Daisy Too (4940 St. Elmo Ave., 301-656-2280) and the adjoining Zelaya (301-656-8553) for trendy footwear. Work your way back to Woodmont Avenue for an independent or foreign-language film on one of the eight screens at the Bethesda Row Cinema (7325 Woodmont Ave., 301-652-7273). Revel in one of its locally baked goods after the show.
Want more neighborhood guides for DC, Maryland and Virginia? Click here.
This article is part of Washingtonian's Visitors' Guide. For more articles like it, click here.