South by Southwest is Austin's annual holy grail of music festivals. Hundreds of bands from all over the world come to play and try to make it big; the buzz over certain über-hyped bands can be deafening. But judging by the numerous—and positively received—Washington bands at the weeklong festivities this year, you may have thought you were catching a string of shows at the Black Cat's mainstage.
Here are three hometown bands—and our videos of some of their performances—that rocked SXSW and are revitalizing the music scene here at home. If you haven't seen them yet in their native environment, make sure to catch them when they return from the road.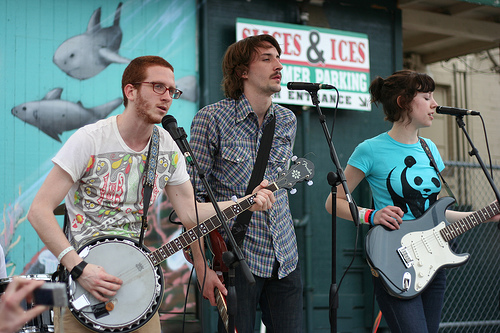 Le Loup
Cramming as many people as possible onstage seems to be the rule when it comes to modern-day indie acts. Le Loup gets in on the trend with its seven members, who play everything from banjo to French horn to the cowbell. Lead singer Sam Simkoff ignites the stage with his spastic dancing, but each member gets in on the vocals, lending a choruslike tone to songs such as "We Are Gods! We Are Wolves!" Le Loup's tunes are all over the place, from dreamy lo-fi folk to soaring electro-acoustic pieces, but its live show is consistently inspiring and entertaining.
The details:
Web site: leloupmusic.net
To download: "We Are Gods! We Are Wolves!," "Planes Like Vultures"
Next in Washington: March 21 at the Black Cat. Purchase tickets.
Video:
Le Loup's new song "Beach House"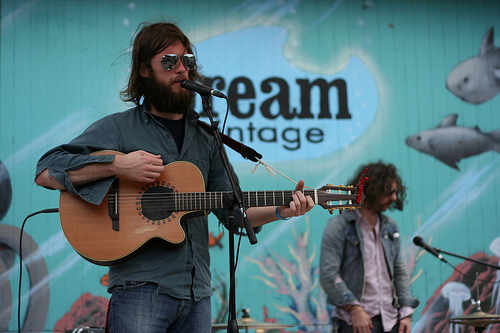 These United States
Listening to These United States, you'd have a hard time believing the trio is based in the District. The folky, bluesy rock tunes that come out of the band—complete with aviator-wearing lead singer and steel guitar—could be straight out of the South. Lead singer Jesse Elliott has a bit of a dreamy, psychdelic tone to his voice that nicely complements the soulful rock. Onstage, the band has no problem cracking jokes, rocking cowboy hats, and being all-around playfully charming.
The details:
Web site: myspace.com/theseunited
To download: "Burn This Bridge," "First Sight"
Next in Washington: April 13 at the Black Cat. Purchase tickets.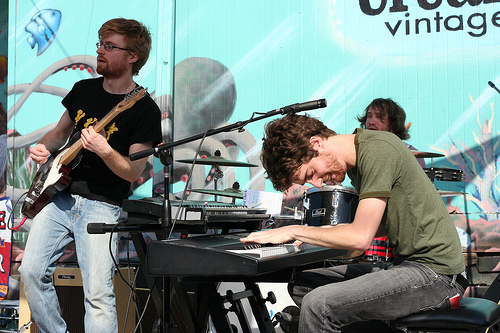 Jukebox the Ghost
These GW graduates, fresh out of college, are putting together melodic music and an impressive, charismatic show that makes them seem far beyond their years. Think of the piano-based, rollicking pop rock of Ben Folds Five, throw in some of Queen's falsetto and dramatic flourishes, and finish it all off with witty, thoughtful lyrics, and you have this trio summed up. Plus, Jukebox the Ghost isn't afraid to have fun onstage—one of its SXSW performances ended with a pretty solid Ace of Base cover.
The details:
Web site: jukeboxtheghost.com
To download: "Good Day," "Hold It In"
Next in Washington: May 3 at the Black Cat. Purchase tickets.
Video:
Jukebox the Ghost covers Ace of Base from Catherine Andrews on Vimeo.