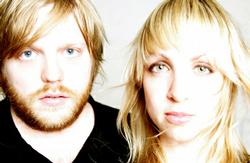 On Friday, April 4, at 11 AM, local band Georgie James will be joining us for our very first arts & entertainment chat. Bandmates Laura Burhenn and John Davis will answer any questions you might have about touring, the local music scene, and their album, Places, a vibrant collection of indie pop tracks that seamlessly blend Burhenn and Davis's vocals with catchy percussive beats and handclaps. Pitchfork described the album as "power pop all the way."
The result of a series of practice and writing sessions between Davis and Burhenn at the Brookland Studios in 2005, Georgie James has appeared on the Conan O'Brian show, toured Europe and Japan, and recently performed at the SXSW music festival in Austin, Texas, alongside other DC bands.
Not familiar with Georgie James's sound? Listen to some of their best tunes here, and check them out when they perform live at the Black Cat on April 5.
Submit questions early here, and check back Friday at 11 AM to see the band's answers.