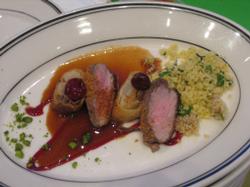 Cherry-blossom season is finally here, announcing spring with delicate pink flowers. And beginning this Saturday, 450,000 visitors will descend on Washington for the annual National Cherry Blossom Festival.
So how are local restaurants making themselves stand out during the two-week festivities? We caught a sneak peek at some of the cherry-blossom-inspired cuisine (and drinks) on the menus of 54 eateries. Some chefs are offering tasting menus based entirely on cherries and their blossoms, while others created a single dish inspired by the fruit.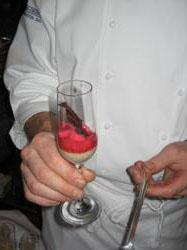 Chef Stefan Jarauson of Palette is one of the few chefs to use the actual cherry blossom: He uses salt-cured blossoms from Japan to accompany a green-tea-cured yellowtail kingfish. Cafe Mozu pastry chef Alexander Haebe uses the fragrant flowers to infuse a crème brûlée, which is then topped with tart cherry espuma.
At Charlie Palmer Steak, a sliced rack of roasted Shenandoah Valley lamb loin is garnished with Bing cherries. Belga Café's Bart Vandaele channels his Belgian roots with duck breast in a kriek-lambic/cherry sauce, paired with sour cherries macerated in Belgian beer.
To go with the festival's Japanese theme, Kaz Sushi Bistro chef/owner Kaz Okochi is replicating a traditional teatime sweet from his native country: He wraps a pocket of rice and sweet red-bean paste with a salted cherry-blossom leaf, then adds a subtle coffee flavoring for an American twist. The sushi restaurant will also offer special bento boxes throughout the festival.
The festival's opening ceremony will take place this Saturday at 4 PM at the National Building Museum (401 F St., NW). From 10 AM to 3:30 PM, there will be a host of free activities, such as Japanese craft demonstrations and performances by music and dance groups.
Have you seen other cherry blossom-inspired dishes? Tell us about them in the comments.