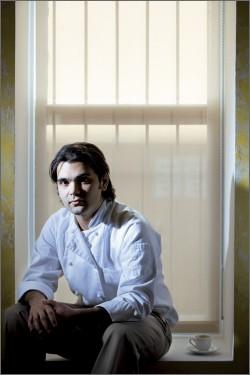 Congratulations to chef Johnny Monis of Komi, named one of Food & Wine magazine's 2007 Best New Chefs. Monis represents DC on a list of ten chefs from around the country—San Diego to New Orleans, Portland, Maine, to Portland, Oregon.
As a new member of this exclusive club, the 27-year-old chef joins the ranks of past local winners Cathal Armstrong of Restaurant Eve (2006), Eric Ziebold of CityZen (2005), Fabio Trabocchi of Maestro (2002), Frank Ruta of Palena (2001), and Roberto Donna of Galileo/Bebo Trattoria (1990).
Food & Wine's honorees were announced today and will be feted in Manhattan tonight at 7 World Trade Center with dishes prepared by past Best New Chefs and Harold Dieterle and Ilan Hall, winners of Bravo's hit show Top Chef, of which Food & Wine is a sponsor. The 2007 Best New Chefs will appear on the cover of the magazine's July issue, and will head to Colorado in June to prepare a tasting dinner at the 25th annual Food & Wine Classic in Aspen.
According to Food & Wine editor-in-chief Dana Cowin in a press release announcing the winners, this year's group reflects "talented chefs turning out utterly thrilling food at modest, low-key restaurants. Their obsession with ingredients transforms everything they make—even when it's a humble hamburger."
Though there's no hamburger on Monis's menu, this philosophy certainly applies to his approach at his very personal, Greek-accented restaurant Komi, where dishes as simple as house-cured olives and mini gyros prove unforgettable. Other honorees include April Bloomfield of New York's applauded gastropub The Spotted Pig and Matthew Dillon of Sitka and Spruce in Seattle, even tinier than Komi at just 20 seats (Komi has 38). Make your reservations while you still can!