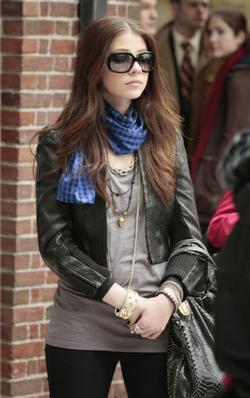 If we learned anything from this week's episode, it was: 1) Never trust an ex-best friend with an extreme fondness for royal blue; 2) Boys can totally wear brights this season, too; and 3) Invest in hairband companies *stat*.
But to rewind a bit: Ever since the CW network's delightfully stylish teen dramedy Gossip Girl (a.k.a., GG) returned last week, we've had it highlighted as the "must do" event on our Monday night calendar. (Actually, the boyfriend suggested we run out to see Forgetting Sarah Marshall–co-starring the uber-cute Kristen Bell, narrator of GG and also the former Veronica Mars—and we immediately rejected the idea, despite our love for the movie's producer, Judd Apatow. GG on Tivo? It's just not the same!)
Of course, Monday night's GG did not disappoint. It featured the much-anticipated arrival of Michelle Trachtenberg (formerly best-known as Buffy's little sister) as Georgina, the show's new Bad Girl, who spent much of the episode in slightly skanky clothing (in today's world, black rubbery tights = pure evil!) and a lot of royal blue (which got a tad tiring but, we have to admit, does really work for her).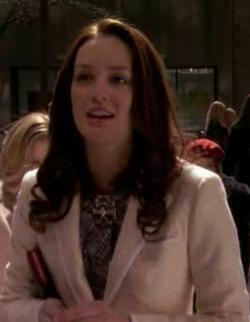 Unfortunately, Georgina's arrival meant that Blair­—the show's former Bad Girl­—has lost the costume department's attention, as evidenced by that hideous button-up blouse and brooch it made her wear to take the SATs. (Um, I'm pretty sure I saw my grandmother in that exact same outfit in 1992, minus the Balenciaga-esque blazer, of course.) Usually, Blair gets to parade across our TV screen in at least a few super-cute dresses; this week, nothing. Tough luck, B. We hope it gets resolved soon.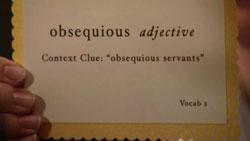 (They did throw Blair a tiny bone and give her the *cutest* vocabulary flash cards in the show's opening SAT-prep montage. Yellow-scalloped edging? Swoon!)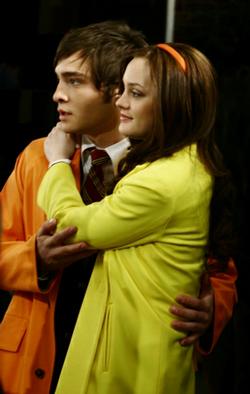 Serena's completely lackluster ensembles (save for a pair of bright-orange fingerless gloves that made a cameo) helped shift our attention to the boys' wardrobes. Chuck Bass has come through with flying colors, quite literally: Throughout the show, Chuck was spotted in a Day-Glo orange coat, a tomato red blazer (with the collar popped, natch), a purple cardigan, and lemon yellow pants—together. Such a bold combo is not for everyone, but if anyone can rock it, it's Chuck. (Similar eye-searing hues also were spotted on the nameless sidekick Freshman Girl, who has traded in her ski hat from last season for a belted hot-pink trench. We approve!)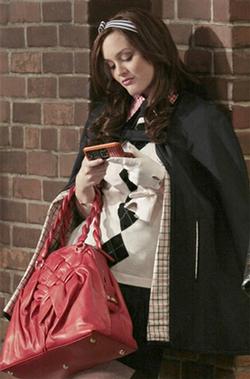 And finally, the headbands. GG gets a lot of credit for prolonging this trend. At our count, no less than 16 extra-wide, jewel-encrusted and be-bowed headpieces were on view across the Upper East Side. We just had to pick a favorite, and the winner is: Blair's large-bow and black-and-white striped version, circa 8:26 PM. Cute!
And with that, we bid you an "xoxo." Oh, you know you love it. See you next week!
For more shopping and fashion, click here.