In Washington, it's hard not to break a sweat in the summer. High humidity and hot temperatures make the heat inescapable. Add in summer rain storms, and you become a hot, sweaty mess.
To avoid fashion mishaps—sweat-stained blouses, wet feet, and ruined leather handbags—It's Julien fashion blogger Julien Garman shared her steadfast style tips to stay dry and fashionable on rainy summer days.
1. Wear a dress or skirt.
Garman almost always wears a dress or skirt on hot rainy days. Why? Wet pant legs are not at all comfortable or professional.
2. Avoid silk!
Though Garman adores silk—the fabric is lightweight and comfortable—sweat tends to show on silk garments. On hot and humid rainy days, it's best to avoid materials that draw attention to the fact that you're sweating. If you must wear silk, Garman recommends choosing something white, which won't show sweat as easily.
3. A lightweight trench coat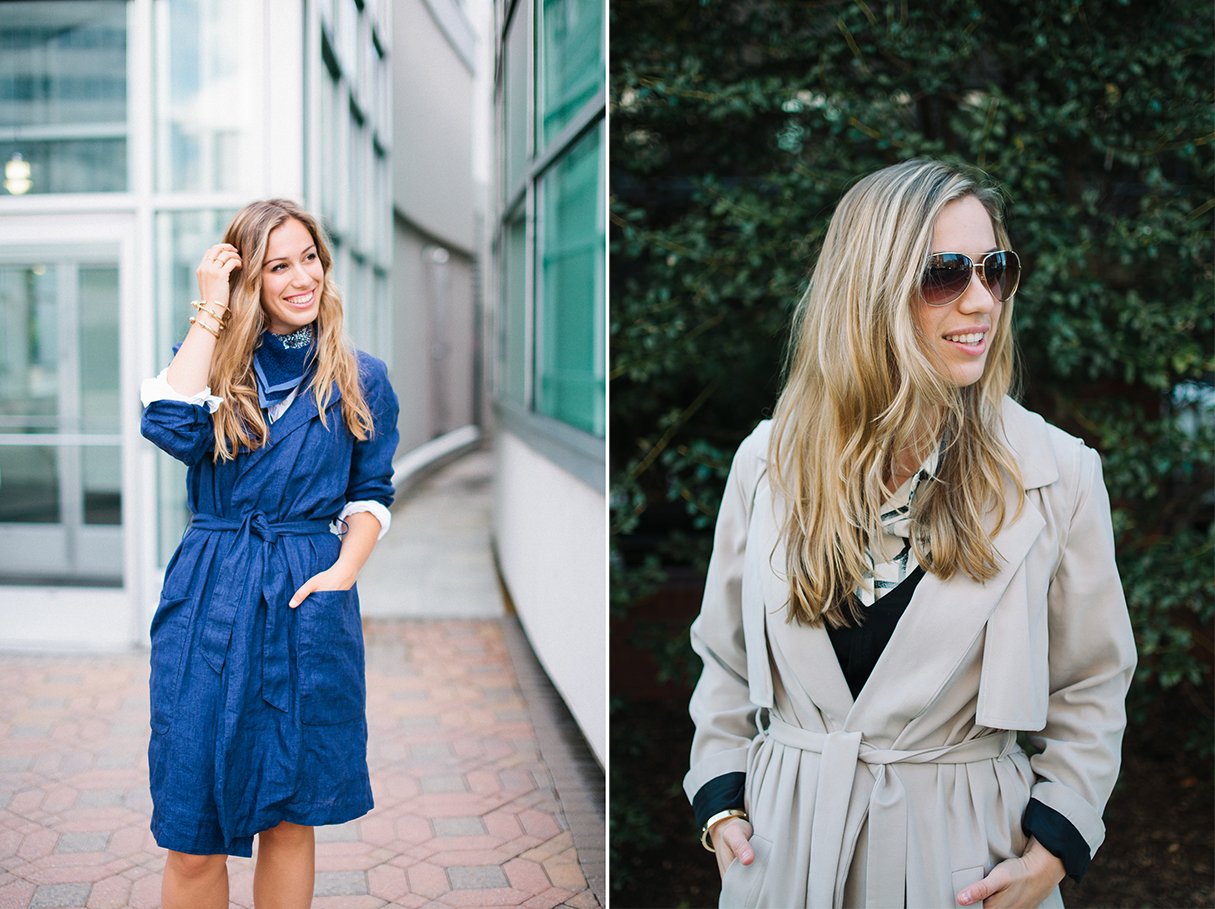 The coat Garman is wearing (above, left) is actually linen, which lets you stay cool while offering substantial protection from the rain. "I also love this one from Estiletta," Garman said. "But obviously, if Burberry is in the cards for you, by all means, go that route."
4. Invest in a good pair of rain boots
"While it's tempting to grab the cute pair from Target," Garman said, "cheaper boots can tear or let water in." Not a cute look.
Garman suggests investing in a sturdy pair of Hunter boots to keep your feet warm and dry.
5. Bring (or keep) a pair of nice shoes to change into at the office.
Yes, it's great to wear rain boots on your commute to and from work, but wearing rain boots in the office isn't the most fashion-forward statement you can make. Plus, you don't want to get caught in a last-minute meeting in wellies!
6. A lightweight scarf to protect jewelry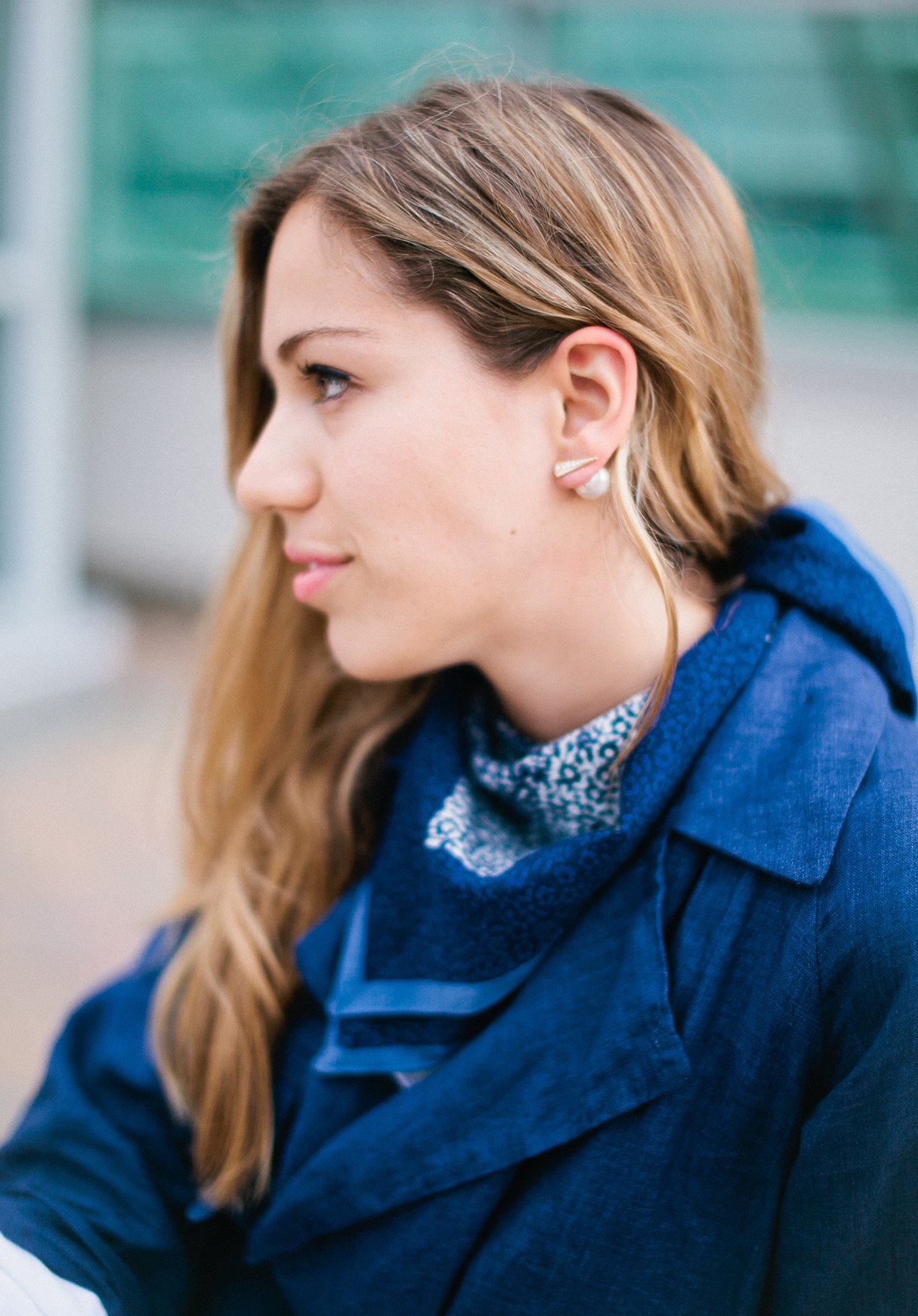 Two things that tarnish jewelry: water and sweat. You'll come across both of these culprits on humid rainy days, so Garman suggests wearing a lightweight scarf to protect delicate necklaces from getting damp and tarnishing.
7. Tote your things in an inexpensive bag
This doesn't have to be a tote bag you use for groceries, but if you have a sturdy purse that you don't mind getting rained on, this is your best bet for toting your belongings. Garman loves the color-blocked Solsak bag—it even has a zipper compartment for an extra pair of shoes.
8. Budget time to do your hair at the office.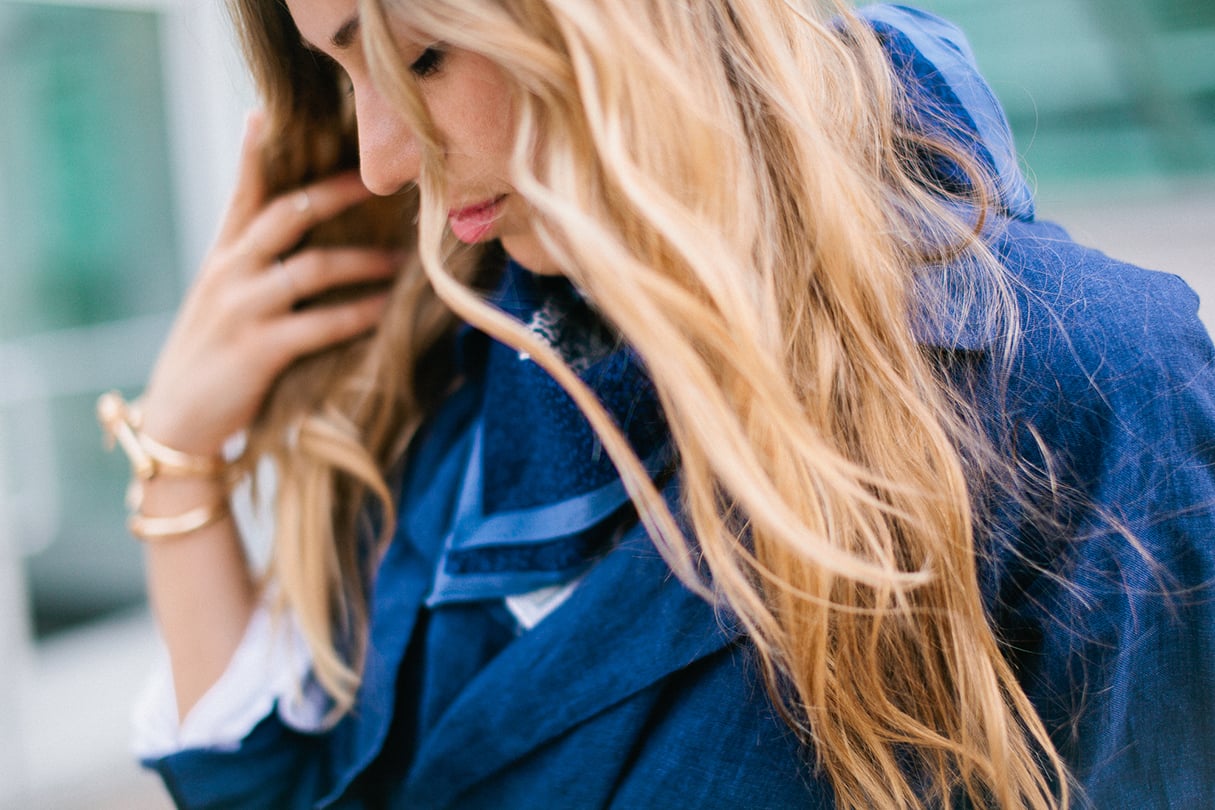 Humidity and hair just doesn't seem to mesh. To avoid a frizz fest, Garman arrives to work early to do her hair at the office. Most days, she also does her makeup right before work. "Is it glamorous? No." Garman said. "But it's far more effective than sweating it off in the daily commute."
If you're unable to squeeze in some time to polish up at the office, Garman recommends investing in some great waterproof mascara and eyeliner (she likes the Stilla All Day Waterproof Liquid Eyeliner).