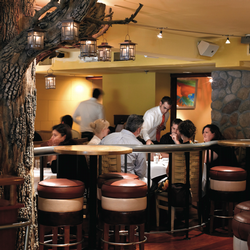 Warm-weather brunch season is ramping up. And although many menus still offer pastry-chef-crafted doughnuts, haute huevos rancheros, and blue-crab Benedicts, we set out to find what's new in late-morning eats. Here's a look at what you'll likely see on an umbrella-topped table this summer.
Rum Cocktails
Sugary morning drinks like Bellinis make us think of one thing: naptime. But alas, they persist. This year's crop of morning cocktails is heavy on the tropical (translation: they're socked with rum). At the swank Falls Church destination restaurant 2941, the Rainforest Iced Tea spikes green tea, pineapple juice, and lime juice with not only Bacardi but that melon-flavored, underage mixer of choice, Midori. Famous for its Latino dim sum brunch, Café Atlántico in DC's Penn Quarter puts forth an even sweeter sip: a Piña Condensada made with mango and coconut rums, pineapple juice, and condensed milk. Dupont Circle hotel restaurant Firefly puts for the Miami, a mix of grapefruit, orange, and lime juices with Mount Gay rum. And the mango cocktail at Dupont Circle joint Luna Grill & Diner mixes mango rum with Champagne, pineapple and orange juices, and Godiva Liqueur . . . zzz.
Rum is also finding its way into a few more traditional morning drinks: There's Bacardi O in the mimosa at Bar Pilar and spiced rum in the Bloody Mary at the Argonaut, Joe Engert's nautical-themed tavern on H Street, Northeast.
Stuffed French Toast
The low-lit booths at Westend Bistro by Eric Ripert, in downtown DC's Ritz-Carlton, are now open for business Sunday mornings. There, French toast reads like dessert: It's stuffed with roasted apples and sweet mascarpone cheese, then gilded with maple syrup. Soon-to-open Penn Quarter chocolate lounge CoCo Sala ups the sugar quotient even more with cinnamon-brioche French toast served with bananas, house-made marshmallows, and chocolate. Elsewhere, Cleveland Park dining room Ardeo pumps up its pumpkin-challah French toast with bananas, and Penn Quarter pizza joint Matchbox injects slices of cinnamon French toast with cream cheese.
Not Your Everyday BLTs
Bacon-lettuce-and-tomato sandwiches, those summer standbys, get amped up with fried eggs at Firefly and Arlington wine spot Tallula. And as always, you'll find a BLT made with fried-green tomatoes at Café Saint-Ex near Logan Circle. But leave it to Louisiana-inspired dining room Acadiana to take the idea to the next cholesterol-fueled level: Its chopped BLT salad is gilded with Maytag bleu-cheese dressing.
Green Eggs and Ham
Okay, so two doesn't necessarily qualify as a trend, but it's not often that you see one Seussian dish on two menus. At Firefly, Danny Bortnick's Green Eggs and Ham translates as a quiche speckled with spinach, Virginia ham, and Gruyère cheese. At Southern-accented U Street spot Creme, Terrell Danley's version is a three-egg omelet with roasted green chilies, herbed hollandaise, and a ham steak.
Hash
Is hash the new omelet (a.k.a. a crafty catchall for passing off last night's leftovers)? It sure seems like it. The hacked-up mess of skillet-fried potatoes and anything else that's lying around is all over brunch menus this summer. There are traditional corned-beef sling-ups at places both expected (comfort-food-focused eatery Hudson; Palisades neighborhood spot Kemble Park Tavern; preppy hangout Bourbon) and less so (Modern American dining room Ardeo; elegant French bistro Café du Parc). Tallula switches things up by using the stash of housemade pastrami. At Caribbean-inflected newcomers Cafe Trope and Meridian, it shows up with chorizo, roasted corn, and pumpkin, and lobster and sweet potato, respectively. At Westend Bistro you'll find hash sautéed with lamb and artichoke, and at Capitol Hill French dining room Bistro Bis it's made with duck confit, garlic potatoes, red-wine-poached eggs, and honey-vinegar-thyme sauce.
Want more brunch? Check out our guide to Mother's Day brunch deals. Also, on Thursday at 11 AM, we'll be hosting a chat with make three chefs who will discuss all things brunchy and breakfasty. Submit a question here!
More>> Best Bites Blog | Food & Dining | Restaurant Finder