A few months ago, we came up with what we thought was a pretty comprehensive guide to the best trivia nights in the area. You flooded the comments section and proved us wrong. Now, as we revise and update our roundup, we want your input: Know of a great spot we overlooked? Leave your suggestions in our comments section.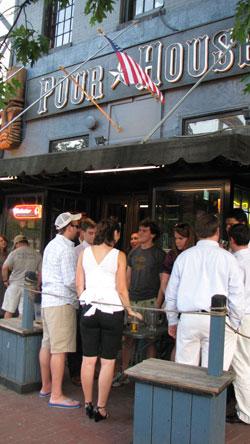 Fadó Irish Pub & Restaurant (808 Seventh St., NW; 202-789-0066). Held Monday at 8 and known as Pub Quiz, trivia at Fadó consists of seven rounds of questions—including a picture-identification round that often involves movie stars and other celebrities. In what manager Ciara O'Neill describes as a decidedly less competitive atmosphere than other trivia spots, teams can vary from one person to ten or more. Gift certificates are awarded to winning teams.
Ireland's Four Courts (2051 Wilson Blvd., Arlington; 703-525-3600). Teams of no more than four members participate in seven rounds of ten questions, which include picture identification and match-up. Starting at 7:30 and often going later than 10, Pub Quiz at Four Courts has the added bonus of a food special: Burgers are half price ($5.95) on Mondays. Prizes for winners include $100 and $50 gift certificates for the winning team and runner-up.
Ireland's Four Fields (3412 Connecticut Ave., NW; 202-244-0860). With no emcee calling out questions over the microphone, trivia at this local Irish hangout is a little different. Every Wednesday night, owner Frank Hughes moonlights as Pub Quiz master, distributing a 70-question handout that must be completed by participants in less than 90 minutes. Prizes include a $50 gift certificate for the winner and a free round of drinks for the runner-up. Pub Quiz starts at 9, but according to Hughes, those looking for comfortable seating should get there by 8:30.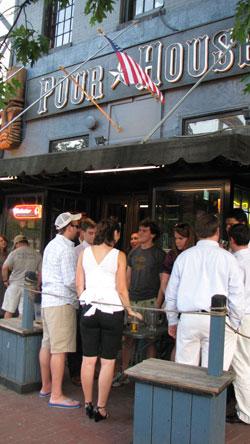 Ireland's Four Provinces (105 W. Broad St., Falls Church; 703-534-8999). Hosted by emcee Amy Smith—who prepares the questions—Wednesday trivia at this bar has been running for seven years. A handout with 30 questions, including one Irish-related, is given out by Smith at 9, with an hour allotted for responses. With as many as 60 teams participating, team size is restricted to two to five members. Each week's winners go on to a tournament of champions (the next is September 16), for which Four Provinces closes its dining room. Trophies are handed out to the winners of a 200-question challenge. "During this competition, you can hear a pin drop," says bar manager Colm Dillon.
Jimmy's Old Town Tavern (697 Spring St., Herndon; 703-435-5467). Alex Trebek, eat your heart out. With beer and food thrown in, these days the best Jeopardy matches are being held at Jimmy's Old Town Tavern every Tuesday night. "JOTTeopardy" starts at 7 with a series of elimination rounds from which three finalists are selected. Once the pool is narrowed, emcee and bar owner Jimmy Cirrito takes the stage while a board with different categories is brought out. Finalists then duke it out, TV-style, for gift certificates and the chance to advance to a monthly championship round.
Murphy's Grand Irish Pub (713 King St., Alexandria; 703-548-1717). Tuesday trivia at Murphy's may not start until around 8:15, but with prizes including baseball tickets, free wings, and a percentage marked off your bill—not to mention the lure of half-price burgers—bartender Sam Pallo suggests getting there by 7:30. Questions are read over a microphone by an emcee; teams of about four people play ten rounds.
O'Sullivans Irish Pub (3207 Washington Blvd., Arlington; 703-812-0939). Wednesday trivia starts at 8:30 and runs a little past 10. The game is structured in four rounds—two are general questions, one is movie quotes, and the last is a musical round. Emcee Paddy Doody takes the stage for the musical round, singing five songs from which he then draws a series of related questions. Drink and food specials include $2 Bud Light and fish and chips for $5.50, both from 4:30 to 8:30.
The Pour House (319 Pennsylvania Ave., SE; 202-546-0779). Tuesday trivia nights here are an event—and with good reason: Neal Racioppo and Rebecca Scott emcee the game with equal amounts of charm and sass, humorously chiding and often egging on the smart-ass Hill crowd. Trivia starts at 7, but seating starts becoming limited as early as 6. There are two games per night, each consisting of two rounds, as well as a quick half-time game. All trivia rounds have ten questions, which cover everything from John Grisham novels to Yasser Arafat to "octagon" references in the movie Anchorman. Hilarious team names, most of which are taken from the day's headlines, are encouraged and often rewarded with prizes. Top teams are awarded $30, $20, and $10 bar-tab discounts per game; while there are no food specials, pitchers of Bud and Miller Light go for $10.
Ventnor Sports Café (2411 18th St., NW; 202-234-3070). Don't let the bar's name fool you—trivia here isn't exclusively sports-oriented. Owner and emcee Scott Auslander downloads questions from an online trivia site (nofrigginclue.com), putting together a handout structured in eight rounds of ten questions each. There's a multiple-choice round, an audio round—a crowd favorite—and a final, extra-tough question known as the "pub stumper." Service is amiable, and the crowd is composed of regulars and newcomers alike. There are no size restrictions for teams, but a two-drink minimum is required to participate. Trivia night, Tuesdays at 9, takes place only in the main room, so seating can be a problem for latecomers.
Wonderland Ballroom (1111 Kenyon St., NW; 202-232-5263). You can spot scenesters, locals, and Wonkette staffers alike at Wonderland's Monday trivia. Ten rounds of ten questions each are read by one, two, or even three emcees. Half the fun of trivia at Wonderland is getting to host the event—anyone interested can sign up. Hosts get $25 in beer and food per person. Pabst Blue Ribbon bottles are available for $3, and prizes include $100, $20 and $10 bar-tab discounts. No more than five members per team. Trivia, held in the bar's upstairs area, usually runs from 7:30 to 10, but good luck trying to find a table after 6.
UPDATE:
The Argonaut (1433 H St. NE; 202-397-1416). "Booze Clues," as this H Street bar had dubbed their trivia, kicks off February 13 at 8 PM in their upstairs area. The game consists of eight rounds and team sizes vary. Prizes include $50 and $25 gift certificates for first and second place, respectively, as well as other fun gifts for the team that places last and those with the best names.
UPDATE 2:
Solly's (1942 11th St.,, NW; 202-232-659). Hosted by the Washington Irish Rugby Football Club, trivia nights at Solly's are held every first and third Wednesday of the month. The game consists of four rounds with one speed round. There are five questions per round.
Looking Glass Lounge (3634 Georgia Ave., NW; 202-722-7669). The spot once known as Temperance Hall hosts trivia nights every Thursday at 8 PM. The event is quite popular among patrons of the bar and neighbors in the area, so get there early.
UPDATE 3:
Nellie's Sports Bar (900 U Street, NW; 202-332-6355) Smart Ass!, this U Street bar's version of trivia takes place every Wednesday at 8 PM. A second round starts at 9 PM. Prizes include $30 off of the winning team's tab and $20 and $10 off for the runner-ups. The game consists of three rounds of six questions each, plus a special round.
UPDATE 4
Saphire Cafe (7940 Wisconsin Avenue, Bethesda; 301-986-9708). As pointed out by a reader, trivia at this Bethesda spot happens every Wednesday night at 7:30 PM. Drink and food specials include $1.75 Miller Lite Drafts and half-priced burgers.
Whitlow's on Wilson (2854 Wilson Boulevard, Clarendon; 703-276-9693); Pub Quiz, as trivia is known at this bar, takes place Sunday nights at 8 PM. Teams consist of no less than two and no more than five people.
Bedrock Billiards (1841 Columbia Road, NW; 202-667-7665). Trivia nights start at 8 PM every Sunday with a $50 gift certificate for the winning team.