We are a little behind on catching this week's Gossip Girl, but it was definitely worth the wait. Chuck and Nate were sadly absent for this episode—what's up with that? We demand Chuck in brights!—but the featured fashions and the dramatic frenzy more than kept us happily distracted.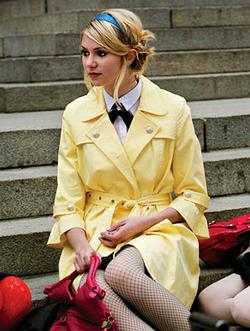 Our glimpse into the lives of Manhattan's elite kicks off with a medley of bright flats and even brighter tights. We're not sure we love Jenny Humphrey's turn to the dark side, but her popularity battle with Blair has certainly brought out a full arsenal of fashion. On the one side: Blair, in a-little-too-patriotic navy, red, and white ensemble, along with her Token Asian Sidekick (in big black glasses—very hip) and Isabel (in an overly puffy pink jacket, lots of layers, teal tights). On the other: Jenny, in a lemon-yellow trench, bright-blue headband and hot-pink bag, with her trio of supporters (sporting coordinated separates in pink, lilac, and bright blue). Headbands all around, of course. Our fashion radar is going off at full force. We can barely keep up!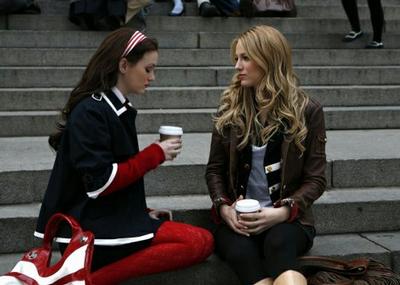 After some casual cat-fighting, the story moves on to Serena. She's been striking out in the fashion category lately, but we're definitely digging her layered tee/vest/leather-jacket combination. Is S's sense of style finally returning? While we're not back to preslump levels yet—the slouchy suede over-the-knee boots and gold-sequin dress that she sported early on in the series were pretty impeccable—we're feeling heartened by these improvements.
Unfortunately, all of these decadent ensembles have to satisfy us for most of the first half of the show, as we're not going to see a costume change for quite some time. It's just as well, as we're distracted by serious drama and Jenny's self-obsessed snobbery.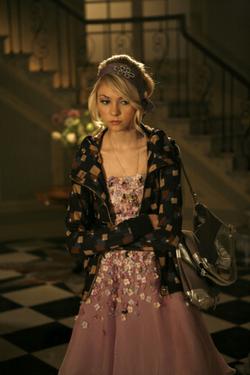 Things really perk up again stylewise for Jenny and Asher's fancy party. Jenny is resplendent in a lilac strapless dress with floral appliqués (we say if you're going to get utterly humiliated, you might as well do it in a pouffy skirt!), while all the male guests seem to have gotten the memo on Madras. Most of them stick to the patchwork pieces that are apparently totally back (do they remind no one else of 1992?), but Asher is taking a cue from the Chuck look book and rocking a plaid tie with a clashing plaid shirt. Are clashing plaids the new brights? Sorry, Chuck—while you're off playing in Monaco, the fashion world has moved on without you.

Serena, on the other hand, has dropped back into the depth of badly proportioned mini-dresses. We may give up on you, Serena. In fact, maybe you should start borrowing from your mother's closet, because Lily is definitely showing you up this week. Of course, judging by next week's episode teasers, ill-fitting tunic dresses are the least of your worries.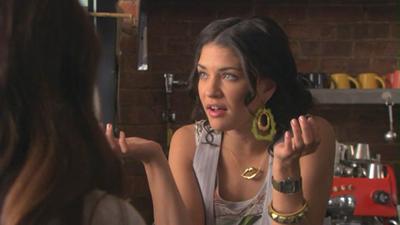 And so we offer our final assessment:

Best dressed: Lily van der Woodsen, we're definitely digging your modest-librarian chic. Which makes us feel kind of old. But carry on!

Worst dressed: Really, Serena, you're killing us. (On the upside: At least your hair looks fabulous!) I'm also not digging the oversize chain necklaces that are all the rage with the cliquey girls. C'mon, ladies, let's get it together.

Most improved: The new Token Asian Sidekick, a.k.a. Nelly Yuki. Love the glasses changes, from big black frames to round and red to edgy electric blue.

Thanks for Listening to Us Award: The good news is Vanessa got rid of the door-knocker earrings. The bad news: The new ones she's sporting might actually be worse.

Best fashion insult (ever!): Jenny to Dan: "Even you should know that jealousy clashes with L.L. Bean pants." Ouch.

And with that, we bid you an xoxo. See you next week!
More>> Shop Around Blog | Style | Find a Spa