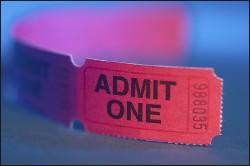 It's a light day in terms of ticket sales, except for one big one we've got for you.
Like we alerted you Thursday afternoon, there appear to be Radiohead tickets for this Sunday's show left over. But these are going to go fast, we know it. So get on it!
Nick Cave and the Bad Seeds are at the 9:30 Club October 5; get your tickets ($40) here.
It won't be until August 11 that punk group Rancid hits the 9:30 Club, but tickets go are on sale here.
More>> After Hours Blog | Arts & Events | Happy Hour Finder | Calendar of Events