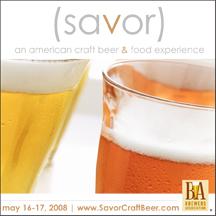 Next weekend, some of the nation's keenest beer aficionados will be in DC. The occasion? Savor: An American Craft Beer & Food Experience. Forty-eight breweries from across the country will take part in the controlled bacchanal celebrating the art and science of pairing good beer with good cuisine. Guests will be treated to a reception of 35 food tastings, each with a suggested beer pairing. Representatives from breweries will be on hand to give seminars and talk up their favorite pints.
Every brewery that comes will be bringing one or two craft beers, each to be paired with the appetizers (supplied by Federal City Caterers). Some of the most interesting pairing ideas include Sexual Chocolate Imperial Stout with crostini of figs and prosciutto (Foothills Brewing Co., North Carolina), Liquid Sunshine Blonde Ale with steamed Thai turkey dumplings (Hoppy Brewing Co., California), and a Tartanic Scottish Ale with crème brûlée (Blackfoot River Brewing Co., Montana).
As intriguing as these pairings sound, we called in some experts from Savor for advice on how to make a perfect beer/food match. Lucy Saunders, author of The Best American Beer and Food, believes that beer pairing is all about personal taste: "Everybody's palate is different, so there's no way you can guess at what might be a good match before you try it. I like to look for dominant flavors in the meal, the method of preparation, and the setting in which you're eating, but you just never know. That's why Savor is so exciting: you'll be able to experiment with your pairings, find what works for you. When you make a great match, that memory stays with you. It's a brand-new flavor of your own creation."
Saunders knows what she's talking about. She's been writing about beer for more than 20 years. In college, majoring in Middle English, she eschewed a term paper in favor of a lively beer-fueled feast for her class.
Hugh Sisson, founder of Clipper City Beer in Baltimore, follows a simple rule: If it tastes good, it's a good pairing. That said, Hugh gave us a few guidelines on how to get there. "Go by the three C's," he says. "Complement, contrast, and cut. You want to try a big food with a big beer so they can sustain each other, but the contrast is also important. Try some really savory sausages with a beer that has malty sweetness, like a doppelbock. Oysters with a dry Irish stout offer contrast in both flavors and texture.
"The cut might be most important. I like steamed crabs, and those have to come with beer. A good pale ale or crisp Pilsner works because it's got all that peppery spice to cut through the strong flavors of the crab and refresh the palate for the next bite. The beer takes over for a minute, and when you get back to the crab it's like you're starting all over again."
On Saturday afternoon, Sisson will preside over a seminar on Chesapeake food and beer, with tastings of duck and crab. With his help, you might be able to find the perfect malty match and make a memory. And if that doesn't work? Well . . . it's beer. You'll still come away with a good buzz.
Savor will be held Friday, May 16, and Saturday, May 17, at the Andrew W. Mellon Auditorium (1301 Constitution Ave., NW). There are three full sessions of tastings and seminars: Friday from 6:30 to 10 PM and Saturday from 12:30 to 4 (sold out, but the Web site encourages you to call to see if you can snag extra tickets) and 6:30 to 10. Tickets, which include all food, drink, and seminars, are $89 per person and $54 for designated drivers. For more information, call 303-447 0816, ext. 131 or click here. More>> Best Bites Blog | Food & Dining | Restaurant Finder