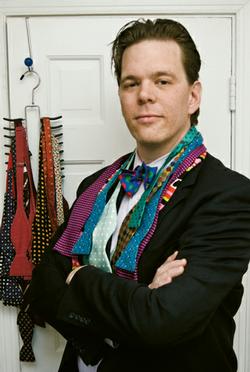 Robert Schlesinger, political reporter and son of the late presidential historian and writer Arthur Schlesinger Jr., may have inherited dozens of bow ties—like his father, he wears one regularly—but he is reluctant to admit his career path was carved by his father.
"He was just my dad," says the son, who in his younger years thought everyone's father was on TV. "As I got to adulthood I began to really appreciate who he was and what he had done, but by then my course was set."
Growing up as the only child of Schlesinger and his wife, Alexandra, Robert found that household discussions often focused on politics and world affairs.
After graduating from Middlebury College, Schlesinger worked for such publications as the Boston Globe and now U.S. News, but he remained fascinated with his father's world: the people who piece together the speeches of some of the nation's greatest leaders.
After hundreds of interviews, Schlesinger's new book, White House Ghosts: Presidents and Their Speechwriters, introduces readers to the words and the lives of writers like Ted Sorensen, a speechwriter for JFK; Peter Benchley, who worked under LBJ and later went on to write the novel Jaws; and Arthur Schlesinger Jr.
"These speechwriters have fascinating stories to tell," he says, adding that as a child he went with his father to meetings of the Judson Welliver Society, named for the first presidential speechwriter, where he listened to them share their experiences.
For a speech to be effective, Schlesinger says, "the President has to have ownership of it even if he doesn't have authorship of it. It's the President who's putting his authority and credibility on the line."
This article is from the May 2008 issue of The Washingtonian. For more articles from the issue, click here.
More>> Capital Comment Blog | News & Politics | Society Photos