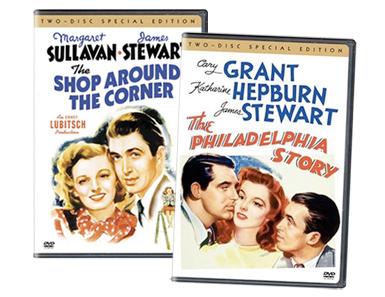 On May 20, Jimmy Stewart's 100th birthday, AFI kicks off a monthlong retrospective of the late actor's work. Stewart starred in nearly 100 films from the 1930s to the 1980s.
On the big screen in May: Stewart's star-making role as Jefferson Smith in Frank Capra's Mr. Smith Goes to Washington from 1939 and two from 1940—The Philadelphia Story, which earned Stewart an Oscar, and The Shop Around the Corner, which was remade into the 1998 Meg Ryan/Tom Hanks hit, You've Got Mail.
In conjunction with the Hirshhorn exhibit "The Cinema Effect: Illusion, Reality, and the Moving Image," AFI looks back at the films of director Jean-Luc Godard. One of the most influential members of the French New Wave, Godard has directed, written, produced, edited, or acted in more than 100 films. The series, through July 3, focuses on the films Godard made in the 1960s, including his first feature, Breathless. Other highlights include 1961's A Woman Is a Woman and 1964's Band of Outsiders.
Beginning May 10, AFI celebrates the 90th anniversary of United Artists, the studio founded by movie greats Charlie Chaplin, Mary Pickford, Douglas Fairbanks, and D.W. Griffith. Some of its best-known classics screen this month, including Rocky; Annie Hall; The Good, the Bad, and the Ugly; and Midnight Cowboy. 8633 Colesville Rd., Silver Spring; 301-495-6700; afi.com/silver.
More>> After Hours Blog | Arts & Events | Happy Hour Finder | Calendar of Events