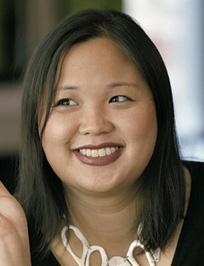 New York Times reporter Jennifer 8. Lee's witty new book, The Fortune Cookie Chronicles: Adventures in the World of Chinese Food, unearths the origins of the fortune cookie, explores the invention of General Tso's chicken, and recounts the kosher-duck scandal of 1989 at Rockville's Moshe Dragon. During Lee's stint in the Washington bureau of the Times, she was known for parties she held in her loft near the Washington Convention Center, featuring fried dumplings made from scratch and a slew of boldface names. Still reporting in addition to selling books, she took a few minutes to answer our either/or questions.
Chop't or Chipotle?
Chipotle. I love that people think of burritos as a Mexican food when in fact—like beef with broccoli and spaghetti and meatballs—it is a dish that is largely indigenous to the United States.
Chinatown bus or Amtrak?
The Chinatown-bus network will take you to crevices of the map where Amtrak doesn't go—anywhere you can find a Chinese restaurant: Kalamazoo, Michigan; Wausau, Wisconsin; Jackson, Tennessee.

Dim sum or 2 am Kung Pao chicken?
Dim sum. Great for impromptu, low-key social gatherings.
Yoga or Pilates?
Yoga. But nothing with too much chanting. I want the General Tso's version of yoga.
Chicken feet or pig's blood?
Chicken feet. Love ordering them when I go out to dim sum with my non-Chinese friends. They will nibble on one to be adventurous and cultural, while I'll gnaw on the rest of them.
Lo mein or fried rice?
Lo mein—though I have to say the Peruvians who love Chinese food have got it right. They have a combined lo-mein/fried-rice dish called aeropuerto.
Pamela Harriman or Katharine Graham?
Katharine Graham. Watergate and Pentagon Papers. Any woman working in print journalism reveres Katharine Graham.
Broccoli or bok choy?
Broccoli—because Americans think it's Chinese. It's originally from Italy and became an American mainstay in the 1920s and 1930s. I guarantee you that General Tso never saw a stalk of broccoli in his life.
>>Read our online chat with Jennifer 8. Lee
This article appears in the May 2008 issue of Washingtonian. To see more articles in this issue, click here.
More>> Best Bites Blog | Food & Dining | Restaurant Finder