Lisa Zusman, 24, publicist at Linda Roth Associates
"One of our clients is an airport-restaurant management company, hence our quirky locale at Reagan National Airport. But we also do PR for companies all over the area, including hotels, restaurants, and some nonprofits. Best perk fashionwise? I don't have to wear a suit every day."
What are you wearing?
"I just cleaned out my childhood home outside Boston and found a dark denim jacket covered with pins. Was that cool even for 1994? One of the pins was from the National Zoo, so at least I had some taste in fun places to go, if not fashion. The one I'm wearing in this picture is from the Gap, and it was one of the first things I knew I had to pack when I studied abroad because it's so versatile.
"The purse is by Melie Bianco, and if you have little enough in it, you can fold over the top and carry it like a clutch. You can find the brand at Discovery Galleries in Bethesda, but I got mine for less (money-saving tip alert!) via Amazon.com.
"The scarf is from Target. I like folding it in a triangle with the point down the front so looks a bit banditlike.
" The dress from Ann Taylor Loft, my go-to store for work staples. It may not be the most fashion-forward, but if you start with basics from standard places, you can totally make the look your own by adding unique items to the outfit. Plus for me, dresses prevent fashion mishaps. I can barely think when I wake up, let alone put together shoes, slacks, and top to match!
"The wide-cuff white plastic hexagonal bracelet is from my grandma's jewelry drawer. Best shopping ever: vintage and free!
"The shoes are from Nine West, found on the Magnificent Mile of Michigan Avenue in Chicago. I could spend hours and hours (window) shopping along that strip of stores.
"Dunkin Donuts! Where I grew up, there's one on almost every corner!
How would you describe your style? Any style quirks?
"I'm fairly quiet, but you don't have to say a word to make a fashion statement. I absolutely have to be comfortable. There are limits—I'll never be caught in a velour tracksuit. But I've accepted that guys hardly ever notice what women are wearing—and women will more likely remember their own outfit than someone else's. So why dress for someone else? If you can't breathe in it or walk it in, you can't dance in it. And you never know when you'll need to dance."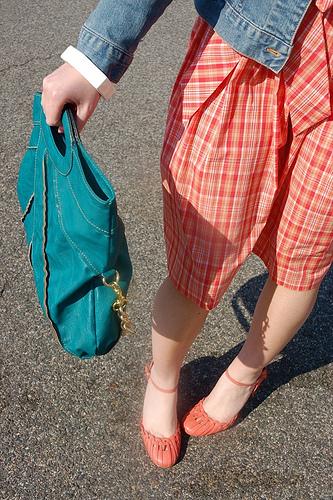 What's something you'd never wear?
"Ankle boots. I buy into a lot of iffy fashions—colored leggings, comically huge sunglasses—but no matter how many times I see ankle boots in fashion magazines, I don't find them attractive."
Favorite shop in DC?
"My favorite shop in the area by far is Nana on U Street. There are so few of each item there that there's no way you'll be caught wearing the same thing as someone else in the room. I especially like Preloved, which produces creative new items out of old ones. I have a favorite dress made from a vintage high-school team sweatshirt. Even my favorite item in my wardrobe is from Nana—it's a short trench-cut cloth coat in a plaid that I didn't expect to be flattering: yellow, brown, and teal. It turns out that my mother had one just like it when she was a child and she absolutely hated it.
"But the best place to find unique items is definitely directly from the source: grandparents (would 'vintage person'/ not be politically correct?). My grandmother has some wonderful cocktail rings and pendant necklaces that she lets me borrow. I get compliments on them all the time."
Fashion rules?
"Always layer. You don't have to look like an Olsen twin or Joey in that one episode of Friends. But layering is an easy way to look put together. A money-saving tip I use: If I can't decide whether a big-ticket item is worth the price, I ask myself whether it will become one of my top three absolute favorite things in my wardrobe. If not, I keep searching and usually find something even more exciting."

Rachel says:
I loved this rocker-meets-country thing Lisa had going on. We were waiting for a plane to take off, so it could be in the photo. It was perfect, sunny weather, and then Lisa started twirling in the wind and didn't even notice that a plane had taken flight.
More>> Shop Around Blog | Style | Find a Spa