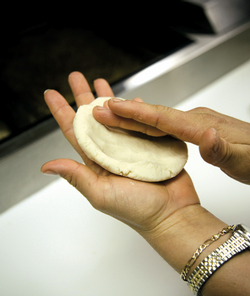 The noise of the printer at Irene's Pupusas III is like the shot of a gun at a track. When it starts spitting out lunch orders around 11 each morning, two pint-size Salvadoran women spring into action, cranking out the first of the 1,000 to 1,500 pupusas that will be ordered that day. They move with amazing speed—moistening their fingers with water before grabbing a piece of masa dough, filling it to order, rolling and patting it into a disk, and slapping it onto the sizzling griddle. They look as if they could make them in their sleep.
Their speed and work ethic would come as no surprise to founder Irene Cuevas, a Honduran entrepreneur who made her name and built an American-style mini-empire on a dish that's uniquely Salvadoran. "The pupusa is like the Salvadoran hamburger," says Cuevas's grandson, José Melgar. It's the national street snack.
The Pupusa Queen is now retired; Jose and his wife, Natasha, own and operate the three restaurants that resulted from Cuevas's decision to rig up one of the area's first pupusa trucks in 1982, outfitting it with a makeshift griddle and parking it near soccer games.
The menus at all three restaurants are the same mixture of Salvadoran and Honduran dishes, with pupusas front and center. The original, in Langley Park, is a small space with a modest menu, while Irene's Pupusas II in Wheaton is housed in a gleaming '50s-style diner that functions mainly as a carryout and breakfast spot.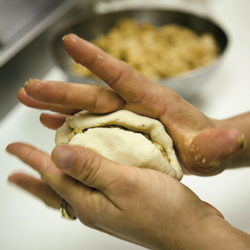 "That was my baby," Melgar says of the retro lunch counter. "That was the one I got started with." Irene's Pupusas III in Wheaton is a full-service restaurant, the only one that serves alcohol, and the culmination of Cuevas's vision.
Is there an Irene's Pupusas IV in the making? Melgar says he's looking into the Gaithersburg area or around 16th Street in DC. After that, the Melgars hope to open a V, VI, and VII. Franchising, he says, is "my ultimate goal."
It's a goal that Cuevas probably never dreamed of when she sold her first pupusa out of the back of a truck.
This article appeared in the 100 Best Bargain Restaurants section of the June, 2008 issue of The Washingtonian.
More>> Best Bites Blog | Food & Dining | Restaurant Finder